Sarah Phillips-new single 'Say It's Possible' out December 6th
aaamusic | On 28, Oct 2010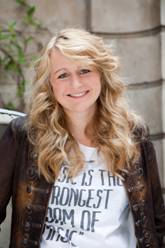 17-year-old schoolgirl, Sarah Phillips is a name you won't forget… She releases her new single- Say It's Possible- her cover of the 2006 Terra Naomi song, coupled with her own new co-written song Blue Chair – out  December 6th on download and CD single – just a couple of weeks after her appearance at November's Woman Of The Year Awards.
Earlier this year Sarah Phillips became a You Tube sensation (after the loss of her Mother) by recording Paulo Nutini's poignant ballad Autumn- which was turned into a video using family footage.  To date it has attracted over 400,000 views and entered the single charts.
This changed Sarah's life – she attracted record company interest and offers of support and encouragement, not only from Paolo Nutini but also a team of industry insiders who have now given her the opportunity to release these new tracks via Strikeback Records.
A charity has been set up by Sarah with family and friends in her mother's name, The Debbie Fund (www.debbiefund.org) To date, she has raised £430,000 – well over half the amount needed to take researchers to trials for a drug to cure cervical cancer.
She says "I hope that one day a lady will come up to me and tell me that she had cervical cancer,
but because of a drug that came out of our research, she survived.
'Say It's Possible', 'Blue Chair' – haunting tracks with a positive message – with all proceeds going to the charity.  A taster for Sarah's forthcoming album next year.