Meet The Last Republic, the band who went from 130 to 24,000 in a week.
aaamusic | On 30, Oct 2010
AAAMusic were lucky enough to catch up with Jonnie Owen and talk about everything you need to know about The Last Republic.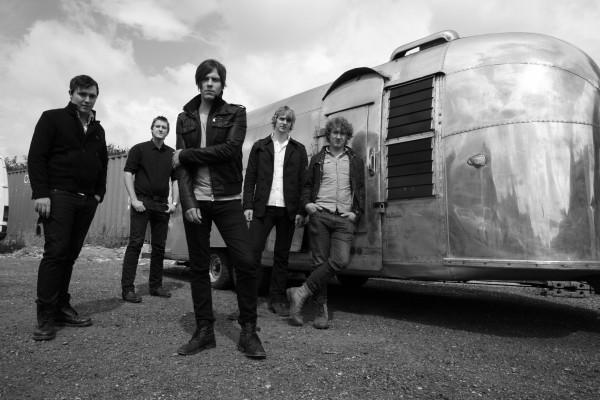 AAAMusic: For our readers who don't know anything about you, can you tell us a little about the band's formation and your journey up to this point?
Jonnie Owen: We formed in late 2007 at a musicians hang out in Neath called the Duke. If you haven't been there imagine the pirate Inn from Pirates of the Caribbean.  Over quite a few beers and plans of World domination the last Republic were formed.  We quickly started to write some big sounding tunes and our crowds started to grow and we started to branch out from being a local band to a UK circuit band where we started to get the attention of music industry types.  Some were bullshitters who wasted our time; the ones that weren't are now our management, who work their backsides off for us day after day.  We started getting airplay with Huw Stephen, Zane Lowe and Bethan Elfyn, Bruce Dickinson and many more.  These people who we can't thank enough for their support started saying a lot of nice things about us and more people started taking attention.  We won Road to v in 2009 as we thought it would be a perfect platform to introduce the band, and it has done just that, our votes alone culminated to 22,000.  We had a massive amount of National press and dates in Europe off the back of it.
AAAMusic: Zane Lowe has touted you as a 'band that will have a big part in the future.' How does it feel to have such influential figures speak so highly of you and do you think it added an extra pressure when recording 'Parade'?
JO: I think the support we had from the above listed gave more encouragement than pressure when recording Parade, although, being a musician you are always faced with pressure for every decision you have to make.  I think most of the pressure came from within the band, which is natural i think.  You only have so much time to record an album then you have to at some point just let it go in to somebody else's hands.  This is why we chose our producers, mixers, engineers and master engineers very carefully.
AAAMusic: You have already had some pretty amazing experiences, notably winning road to v and playing the O2! Do you a have a highlight so far?
JO: It's been a very exciting 12 months for us I must say.  Since winning Road to V we have recorded our debut album, toured with the Levellers (the band that made me pick up the guitar), and then the icing on the cake got chosen by Kerrang! Radio to play to 24,000 people at the O2 Arena in London.  Just to put the O2 gig in to perspective, we played our own sell out gig a week before in London to 130 people and then the week after to 24,000.  The contrast was unbelievable.  The crowd were so responsive and got right behind us from the start.  It has to be a highlight because of the overwhelming scale of the show.  The crowd even sung along to the last song in our set (The Fear), we dropped down real quiet, stadium style, taught them the words and the sung along.  The force of their voices was making my hair blow back like an 80s music video.  This gig was followed by a sell out show for our single launch back home at a 500 capacity venue (Pontardawe Arts Centre) for our debut single (C'mon) Flood The Gates.  We are currently on tour and the first date was out album launch in Swansea playing to a sold out Sin City venue in Swansea of 700 people and then a sold out London album launch of 250 people. Good times……..
AAAMusic: Are there any artists that you would say have particularly influential on the band's sound or outlook?
JO: There are so many, the band's music taste is so eclectic, which is what makes The Last Republic.  There is a Welsh band called The Joy Formidable out there at the moment which I have been listening to, we have played with them and know them.  They're an inspiration as they work so hard and are finally starting to reap the rewards from their hard efforts.  The Levellers are always an influence as they are a perfect example of a self sufficient band.  We are going down the DIY route as it is so attractive at the moment.  After Road to V we were swamped with record deals and management deals but the offers were awful. This is not to say that we won't sign to a label or publisher.  We are just waiting for the right offer, so who knows?  One band we can all agree on that we love is Pink Floyd.  Personally I love, Neil Young, The Levellers, Hope of the states, Sonic Youth, Foals, Radiohead, New order, early U2, the Cure, the Smiths, My bloody valentine, REM, Bat for lashes, BJork……so so many and already very eclectic
AAAMusic: Your touring schedule is pretty mental over the next few months; is touring something that you particularly enjoy and how would you compare it to a recording setting?
JO: Recording and touring are completely different.  I love both.  We have always been about the touring; live is where our love lies.  There's nothing like getting out in the van for a few months, playing at many different cities' meeting loads of different people and spreading the word of the band and having a lot of fun at the same time.  It's easy when you enjoy doing something so much.  Best job in the world.
I love recording too as it's always a challenge to try and capture what we do live on to CD and experimenting with many different sounds and layers and arrangement ideas.  What was extra exciting was the fact that we would be working with Chris Sheldon, Dan Austin, Andrew Scheps and Tom Manning at Monnow Valley studio.
AAAMusic: You guys are just emerging at a time when the music industry is facing an untold amount of challenges from all different areas; what do you think it is about The Last Republic which makes you stand out from the crowd?
JO: It is a difficult time for music at the moment and you could point the finger at so many people or organisations for leaving it get this way.  On the positive side there are so many good bands emerging amongst the manufactured tripe.  We are very happy with the music we are creating and have all confidence that the music we write appeals to a mass audience of all ages and that we will retain longevity.
We support and have all faith that the artists are always the ones in control of their future.  There are some great examples of self sufficient bands becoming successful off their own back without the infrastructure of a record label or a traditional deal.  Times are changing and each band that are willing to go that extra mile will probably succeed, we know there's a lot of work to do but bring it on.
AAAMusic: What advice would you give to bands that are just starting out?
JO: I get asked this a lot and it's difficult as each band take a different path.  Firstly find the right members who don't want to do anything else other than be in a band that are prepared to put in a lot of work and constantly make sacrifices. When you have the right members, gig as much a possible then when you think it's time record a demo of no more than 3 or 4 songs.  Sell these CD's at gigs, create a buzz in your local area, then sends off to managers.  Managers are worth their weight in gold.  Do find a proper manager and not your mate's uncle who used to run a mobile karaoke road show in the 80s.  You will need someone that understands your music, but more important the cutthroat industry you're about to enter.  It's not all doom and gloom though I assure you, there are so many rewards, you just have to work very hard for them.
AAAMusic: What are your plans for the next twelve months?
JO: Along with the album release out on 1st November some more singles we are very excited to be part of  a brand new technology involving Augmented Reality which we've named AiR.  We've basically invented an interactive t-shirt that allows to simulate air guitar through the said augmented reality – the AiR Guitar T-shirt. More information on our website. We also just want to Tour, tour, tour, tour, tour, tour, come and see us.  Gigs are on www.thelastrepublic.co.uk
Author: Josie Payne