New Goodluck Jonathan EP
aaamusic | On 30, Oct 2010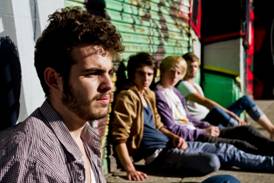 "(Goodluck Jonathan) claim that the world "needs a soundtrack…with fucking big drums." And we couldn't agree more"  – NME
In September a Brighton five-piece called Goodluck Jonathan released the first of three EPs. The EP track 'Broken Heart' was immediately picked up by the NME as a Daily Download, but could have easily been picked up by the likes of Kerrang! Such is Goodluck Jonathan's appeal. In an era where genres are blurred and everything seems to be a regurgitation of something from the past, Goodluck Jonathan inhabit their own dynamic world. Ever evolving, building pace and creativity with each new song, and throwing flying fists at anyone daring to pigeonhole them.
For Goodluck Jonathan have that special thing. The ability to cross indie-alternative-rock divides, to be loud, then quiet, then even louder again. To swing from adrenaline fast to delicately slow and back again all in one three-minute song. In parts beautifully melodic in others unabashedly raucous. Goodluck Jonathan effortlessly lay down songs brimming with the musical intricacies of The Foals, the sublime and emotive vocals and melodies of The Maccabees, and the rare ballsy strength and talent of bands like at At The Drive In or Your Code Name Is: Milo whose explosive, shifting, ever evolving tracks defy normal songwriting conventions, yet their intensity and energy reverberate in your head for days.
Goodluck Jonathan were given their name by a friend. They liked it as it sounded like one person. Which is how the band so focused and united in their sound feel.  Google them and visual treasures can be found like the video for the aforementioned EP1 track 'Broken Heart': http://vimeo.com/14448213 It's somewhat hidden beneath political stories on the Nigerian President, as their Twitter page is littered with Nigerian's commenting on the state of the countries roads. A befitting idiosyncrasy for band so strident in their mantra that the music is king, and such things like names secondary, that they've written a whole album of 'as-yet-untitled' tracks.
Goodluck Jonathan are most definitely not your run-of-the-mill indie band (thank fuck). And a band with such an evolving, unconventional sound has no room to grow with the normal singe-into-album structure. Therefore Goodluck Jonathan are releasing a collection of songs, – in the lead up to their debut album release in 2010 – as a trilogy of EPs.  With each EP comes a carefully unfolded showcase for a band whose capabilities, even in their infancy, are unquestionable, but whose potential for progression and expansion is infinite.  'This Is Our Way Out' EP 2 is released on Monday 22nd November with track three on the EP 'Backs To The Wall' going to radio as the lead track. The third EP in the trilogy follows on the 7th February 2011. The band's debut long player will follow in March 2011.
Live:  11th November – Club Fandango @ Bull & Gate
Info and Social Media
The Band:             Goodluck Jonathan
Myspace:               www.myspace.com/goodluckjonathanofficial
Facebook:             www.facebook.com/goodluckjonathanuk
Twitter:                   www.twitter.com/gljonathanband
Blog:                      www.gljblog.blogspot.com
FREE DOWNLOAD 'Broken Heart'

This Is Our Way Out EP 2 Tracklisting

1 – FatMan
2 – Fall Of America
3 – Backs To The Wall
4 – Away From Here