The 80S MATCHBOX B-LINE DISASTER release new single and announce special Halloween date
aaamusic | On 30, Oct 2010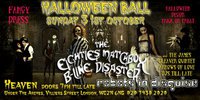 The Eighties Matchbox B-Line Disaster will shortly announce details of a November UK tour which will be known as Enter The Savage BooHoo Tour !
To kick it off the band are curating their own

Following the departure of founder member and guitarist Marc Norris earlier in the year the band have now appointed Dominic Knight as a permanent replacement.
On October 11th Eighties Matchbox release a new single, 'So Long, Goodnight', taken from their third album 'Blood and Fire' released earlier this year to great acclaim, after a six year hiatus. The single, on Black Records, will be available on vinyl and as a download. 'So Long, Goodnight' is the band's first ever ballad.
"To me it really reminds me of the whole Beat Generation mentality," frontman Guy McKnight explains, "and how that filtered down through folk, someone like Bob Dylan, which then transformed into rock music and how that whole beat generation philosophy is basically a strain of proto-punk. 'So Long, Goodnight' reminds me of a road movie. It's definitely an anti-hero ballad."
"This album is a dark-hearted joy and reinstalls the band as the UK's premier proponents of psychobilly-punk." Kerrang
"Absorbing on an almost parasitic level." NME
"The longer the EMBLD defy the whims of fashion and refuse to die, the more they feel like a minor national treasure." The Independent on Sunday
"South Coast swamp rockers return with a vengeance." Uncut
THE HALLOWEEN BALL
FEATURING THE EIGHTIES MATCHBOX B-LINE DISASTER
PLUS SUPPORTS: ROBOTS IN DISGUISE, THE JAMES CLEAVER QUINTET, ARROWS OF LOVE
@ HEAVEN
Under The Arches, Villiers Street, London
WC2N 6NG 020 7930 2020
DOORS 7PM – LATE
[FANCY DRESS, DÉCOR AND THEMED MUSIC]