The Bazaars are back with their brand new double A-side Single "L'attention"/"Visions"
aaamusic | On 30, Oct 2010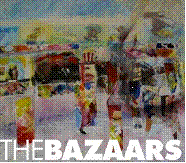 www.myspace.com/thebazaars
www.facebook.com/thebazaars
THE BAZAARS ARE BACK WITH THEIR BRAND NEW DOUBLE A-SIDE SINGLE "L'ATTENTION"/"VISIONS"
MIXED BY RICHARD WOODCRAFT (RADIOHEAD, ARCTIC MONKEYS)
FULL LENGTH ALBUM DUE OUT EARLY NEXT YEAR
FREE DOWNLOAD OF ALBUM TRACK, 'THOSE DAYS, THEY NEVER COME' COMING SOON
'L'Attention'/'Visions', released November 1st, is the blistering new double A-side from the Leeds born The Bazaars.Backed by two advance copy only bonus tracks, this release heralds the band's return after a 4 year hiatus. Having garnered praise from the likes of MTV2 and Zane Lowe the first time around, with their debut single 'I Want You Dead', the foursome are back with a fresh outlook and a stunning set of raw, sweeping melodies and howling psychedelia infused riffs that kick start a new chapter in their career.
Mixed by Richard Woodcraft (Radiohead, The Last Shadow Puppets, Arctic Monkeys, Broken Social Scene), 'L' Attention' swells with defiant and rebellious lyrics from a man who has learnt to be self-reliant: "It is a blueprint for our sound, a mantra for how we've been working whilst 'Visions' has a more other-worldly, ethereal quality to it," says frontman Jonny Woolnough.
Originally formed in 2004, The Bazaars released their first single to critical acclaim but after the departure of their lead guitarist the band "never felt the same," so they decided to part ways. Having been friends since school Woolnough and bassist Tom McGeorgekept in touch and in the summer of 2009 they got together for a one-off jam with original guitarist Jonny Pugh and long time touring counterpart and ex-Blueskins drummer Paul Brown. "His band had just split and we had always thought of him as our ideal drummer. Playing felt good again so we thought we would go for it."
This download only release will be accompanied by a 100 Limited Edition physical copies with bespoke artwork that has been hand painted by the artist and 'Jazz Shaman' BB Davis.
LIVE DATES WILL INCLUDE:
HOXTON UNDERBELLY ON 28 OCTOBER
LEEDS BRUDENELL SOCIAL CLUB ON 30 OCTOBER
– MORE TBC –