Introducing Le Rev
aaamusic | On 04, Nov 2010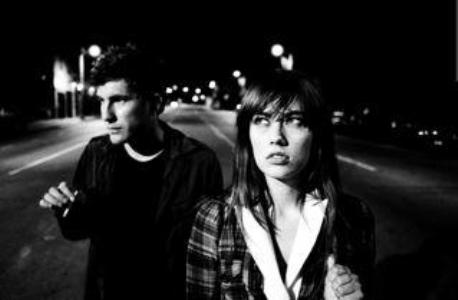 Le Rev is the brainchild of guitarist/producer Nico Chiotellis and vocalist C.C. Sheffield, who penned all the songs together and coined a unique sound that's been described as Blondie meets Blonde Redhead. It's no coincidence that Le Rev is a Los Angeles band; with their theatrically tinged lyrics and guttural guitar riffs, the band dance a fine line between Hollywood histrionics and indie eastside aesthetics.
As lead singer, C.C. can downshift her voice from whisper to scream in a drumbeat (alternately channeling personas as varied as a French chanteuse, larger-than-life diva and little girl lost) to belt out emotionally charged stories. One part heartbreak and the other stick in your head and sing them out loud pop hooks; Le Rev is a bloody valentine with C.C.'s heartfelt stories pitted against Nico's blaring sonic soundscape.
This is a hard working band, not content to rest on their laurels and let their looks do the talking. On the contrary, C.C is more than just a pretty face having recently co-written for the new Deadmau5 album, and in the past having worked with Max Martin, Ladytron and Devendra Banhart. Not to be outdone, Nico is also writing with and producing the NYC band GENPOP and his own solo project 'xxiiii'.
Le Rev's own songs are a scrapbook culmination of the four years since C.C. and Nico started collaborating, as C.C. explains:
"I grew up in Tucson, Arizona and worked at a music venue so I was always involved in music but I never had a band because I was raised super religious and girls were supposed to just get married. I ran away at 17 and I moved to L.A. when I was 18 living in a hostel, then in my van in Echo Park. Nico met me when I first got my apartment in Echo Park".
Nico says "Shortly after I moved to LA I was at a bar and this girl runs up and up pulls me from the booth to the dancefloor, then disappears. Four months later we met again and wrote 3 songs. A few days after that we saw a painting named Le Rev. There was never a question."
The band's self produced single 'Lucky You' is released on 6th December. It comes from a new EP to be released in early 2011, and will sit alongside other amazing tracks co-produced with Jeff Saltzman (the Killers).
Listen out for the remixes of 'Lucky You' by eRNEST&AMz and Throwing Snow – they're incredible.
There are exciting times ahead for Le Rev.
www.myspace.com/lerev