Meet folk chanteurs, Les Shelleys
aaamusic | On 04, Nov 2010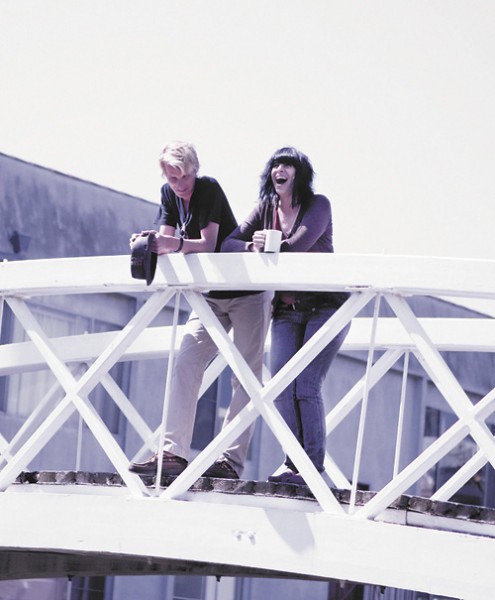 Les Shelleys are Tom Brosseau and Angela Correa. Their re-interpretations of traditional folk songs and calypso rhythms are achingly sultry and earnestly low-fi. Beautifully arranged, the soft hula rhythms of their releases sway back and forth. AAA Music caught up with the pair to chat traditional folk music, San Diego and the slow burning project that is Les Shelleys.
AAA Music: How are you guys feeling about the forthcoming tour?
Tom Brosseau: We feel great. We feel ready for it! Actually we're touring with our label mates Gregory and the Hawk (GATH) so we're looking forward to hanging out with Meredith from GATH, and hanging out with our manager Mary Jones. Sometimes touring is just an excuse to hang out.
GATH and Les Shelleys have albums coming out this month, and for Les Shelleys that's a thrill. Our record has been a long time in the making, close to 10 years. For me it didn't actually come to fruition until Dave Thomas, the talented artist who designed all my Fat Cat albums and the new Les Shelleys album, sent both Anglea Correa and me what would become the album artwork. Now that we have the release on vinyl it seems almost as if I can rest knowing that it all means something because the music and the art exist in the physical world. It might sound old-fashioned to say, but it would be the same thing for any author of poetry, fiction or non-fiction: to have a paperback out there, and possibly in a library. Well, that's the goal, isn't it, to live on in the physical form?
For this tour we've enlisted the help of some friends. There was a gap that needed to be filled because some shows fell through, and we put the feelers out there if anyone could assist. So on top of being excited about an album release tour, and hanging out with Mary Jones and GATH, we feel that it would not have been possible without a little help from our friends.
AAA Music: How do UK crowds compare to US audiences?
TB: Though we've been performing together for a few years Les Shelleys is a new act, practically brand new in the in the UK, and Europe. Nobody really knows us. Recently we've had a good run of radio support from the BBC, including Marc Riley from the 6, and Radcliffe and Maconie from the 2. We're seeing more and more people come out to support us, it feels like we're building an army.
AAA Music: How long have you guys been playing together then? How did it all come about?
TB: We've been performing since the early 2000s after we were introduced to one another by San Diego's Gregory Page who is a man of many talents.We began singing together because we both really just love music. At the time Angela was into recording herself, and so before we were introduced, Gregory said, "Wanna hear what she sounds like," and he played me a cassette tape Angela had bestowed upon him. It was a 4-track recording of original works and I loved it – I immediately wanted to take a walk in the park with this woman.
AAA Music: What made you decide to re-interpret traditional works?
Angela Correa: We really just started singing older songs together because that's sort of what you do when you want to learn to sing with another person sometimes. You try and learn the songs you love and listen to the most. Tom and I were both very much into folk music back then – and so that's what we knew. It was part of what connected us musically too I think. We were living in that same musical place. The melodies from all the americana stuff felt so natural and timeless. I remember sitting around my place & learning 'Roll On Columbia' and 'Sowing On The Mountain' with Tom, feeling that they came quite easily: tweaking and twisting the phrasing and timing a bit to suit us. It was only after we'd gotten very comfortable with each other's voice that we took on more complicated songs and really developed our arrangement chops like in 'Hearts Of Stone'.
AAA Music: So folk music was something that you grew up with then?
AC: Definitely, but in different ways. Tom perhaps more so than I -he had a very diverse and rich musical background that included learning songs directly from his grandparents. His Dad often shared music with him when he was younger- The Ink Spots, Guy Lombardo.  He certainly remembers more old tunes than me! Ha.
I think folk music was a bit more of a subtle soundtrack in my life growing up. My mom was always singing and that's how I learned to harmonize, by singing along with her to the car radio 1950's "oldies" stations. I heard a lot of songs in old movies – my Dad loved Westerns and they were always on. The scores and soundtracks from those films always featured some cowboy tune or some old guy plucking something by a fire. Oddly, watching old Shirley Temple films, black & white films, and 1950's musicals all informed my ear- I loved the music and it shaped how I thought about writing. It wasn't until later in college that I made that discovery though- where the familiarity of folk music came from. I think folk music is that way for a lot of people- a sort of subconscious soundscape in your life. It wasn't until I had a boyfriend in college that sat me down with old vinyl- Jack Elliott, Woody Guthrie, Son House, Leadbelly and Harry Smith anthologies and then the picture all came together.
AAA Music: Which traditional artists have inspired you the most?
TB: In America eventually the road leads to Bill Monroe, that's god's honest truth- Monroe, Robert Johnson, Bessie Smith. I got to Robert and Bill and Bessie listening to Tom Waits, Bob Dylan, and the Squirrel Nut Zippers. I'd also have to say I've reached new heights in music going to the cinema. That's how I first found out about Tom Waits, by seeing the movie Smoke. I listened to Mississippi John Hurt quite a bit, I was so in love with the way he played guitar. Traditional artists perform traditional songs. I would love to know who was it that wrote that one song, who wrote John Henry, Darlin' Cora, Lady Margaret, Pretty Polly?
AAA Music: What about any recent acts that you particularly admire?
TB: Steve Poltz. He's a touring troubadour, lives out of his car, Twitters and Facebooks, is a dreamer like Lennon, but connected to the earth, too, and one of the most energetic, charismatic people I know. Living in San Diego I got lucky being around so many talented and good-hearted performers. Lou Curtis is another man, a great interpreter of folk music. Both Lou and his wife taught me a song called 'Foolish Questions'. Let's see, other acts that have inspired me, well, throw Gregory Page in there for sure. He's done so much for so many people wanting to get into music, and he's brought quite a bit to the San Diego music scene. Java Joe, my god Java Joe and his music establishment- first open mic I ever did in San Diego. I could tell you Bob Dylan inspired me, but that's only because he looked so good in black and white. I believe it takes a community, and San Diego played a huge part. Recent acts who have inspired me started with Steve Poltz and ended with San Diego.
The pair release their eponymous album's opening track, 'The World Is Waiting For The Sunrise' as a single on November 29th. The song is a powerful and uplifting ballad dating back to 1918, it's lyric was written by Gene Lockhart with music by concert pianist Ernest Seitz.