Ulterior – Sex War Sex Cars Sex
aaamusic | On 04, Nov 2010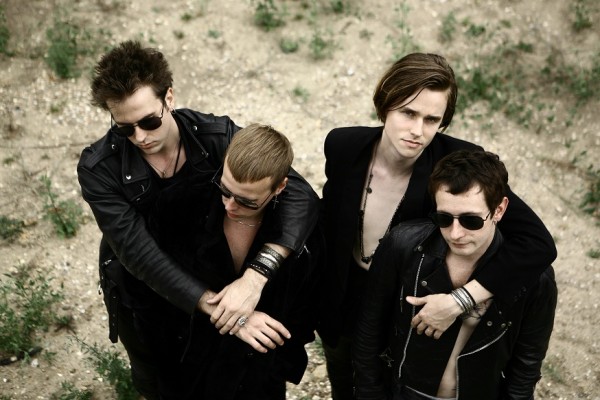 We asked two of our contributors to review Ulterior new single. Below what they thought!
Some bands feel like their natural environment is to be wreathed with a choking fog of dry ice as strobe lights flicker madly off their instruments in an otherwise dark cavern, surrounded by the darkly-inclined grooving to their music. And so it is with Ulterior, hotly tipped as the saviours of a particular brand of crackling, intense dark rock and roll. Their latest single, 'Sex War Sex Cars Sex' is a searing ball of tightly-coiled feedback that reels in some killer riffs and deadly atmospherics into something so visceral it is a wonder listeners haven't been disembowelled by it yet.
Starting with a hissing feedback-drenched riff that is reminiscent of The Jesus & Mary Chain's darkest moments mixed with early Suicide, the track builds and builds with agonising and tantalising slowness, with prominent chugging rock bass and a mesmeric droning vocal style calling out chillingly eloquent lyrics over the atonal melodicism. Skittering drums creep up the spine before the tracks erupts into a squalling, hissing echo-stomp of cavernous proportions with stadium rock of pitchblack shades and a queasy, malevolent onslaught that drags in a recognisable riff over the keening keyboard wails and relentless, arrhythmic chant of "sex war sex cars sex" before it all tails off into scathing and eerie feedback once more.
Ulterior are very much their own beast, blending the atmospheric proto-industrial noise of Suicide with an uncompromising sense of urgency and gloom, punctuated by a lyrical turn on this particular track that almost evokes Richey Edwards in its unsettling take on the cold war of the human psyche. Recently they've been compared to the iconic gothic-pioneers-in-denial The Sisters Of Mercy, whom they supported recently, however this would be pigeonholing them in a rather inaccurate manner. They may be clad in black and reek of dry ice and old clothes but their sound is something new and evolved and uncompromising in its quest to carve a cold and spiky niche of its own in the souls of those who are caught by its menacing charisma.
Author: Katie H-Halinski
============================================================
Ulterior are a brilliant band which decided to risk their reputation debuting with a bit chauvinist single titled Sex Wars Sex Cars, that is the summary of men's interests. It' s obviously a joke, but I defy any woman to not think what I have just said reading those three words sung by a band. Apart from sexist issues this is a really involving tune, it provokes a rush of adrenaline to 80s lovers, basically it's punk, but stuffed with electro sounds from dark new wave.  The tune starts and is supported by a relentless attack of pounding drums, thrusting guitars and wailing synths completed with a full-on chanting crescendo of those three statement words, it's a bomb!
I'm very curious to hear what else they have to say, so I look forward to their debut album.
Author: Roberta Capuano