Vessels – Meatman Piano Tuner Prostitute
aaamusic | On 07, Nov 2010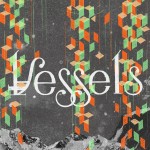 Yes, that is indeed the name of a track, and in a direct contrast to the everything and the kitchen sink name, the song itself is a restrained and blissfully eerie five minutes of subtle bass tones caressing a tinkling electronic tapestry of sound, with pieces of more unusual instrumentation sounds blended into dreamy synth-pop. The vocals are softly crooned and high-register, which when combined with the prog-bothering exploration of clattering and ambiguously esoteric percussion, gives a strong taste of 'Bends'-era Radiohead, albeit in a perhaps slightly more overtly spiky package. The melody is largely based on the shimmering loop that remains constant throughout the track, but the way Vessels layer the sweetly chiming keyboards, wailing synth and groaning guitar whispers/soaring chords and riffs means that it remains fresh in the listener's ears.
The release contains four tracks: one being the full track, another being the more concise radio edit, which also seems to crystallise the mix a little, removing some reverb to allow a clearer and more immediate access to the song although little of the trancelike mood is sacrificed thankfully. The Avus Meaty Lamb Remix is a heavy dancefloor-stomp reworking, featuring a thick, pulsating club beat fashioned from the organic percussion, and sampling and layering the singer's softly keening vocal style to make a bewildering and nearly tribal-sounding piece of music that can only be described as sounding like a tribal ceremony taking place in a broken washing machine for nine minutes, stopping and starting with disquieting backmasked phasing layered beneath the tender vocals.
There is one other song here, the dreamlike guitar wash of 'Ornafives', which is almost the prog-pop equivalent of a watercolour in its gentle and shimmering guitar jangle melody that leads into a bustling yet easygoing instrumental that adds some bassy chug and energetic cymbals but does not overwhelm the listener, instead choosing to crunch ascending scale patterns into the fluttering prettiness of the melodies to create an artistic pop-rock instrumental similar to the charmingly accessible yet subtly bold artistic ventures of artists such as The Album Leaf in its creation of uplifting sonic tapestries using fairly conventional rock band instruments.
I wouldn't laud Vessels as being massively innovative in their pop/prog dabblings, as it wavers between the ambient instrumental rock of the aforementioned Album Leaf and the art-pop ramblings of Radiohead without a massive amount of innovation. However, I would happily say that what they have created in 'Meatman Piano Tuner Prostitute' is something that has lots of charm and more than enough promise for me to recommend Vessels to anyone looking for some dreamy and approachable instrumental work without too much effort involved on the part of the listener, making for a highly accessible release that perhaps lacks a certain depth.
Author: Katie H- Halinski