Voodoo Six @ Camden Underworld
aaamusic | On 08, Nov 2010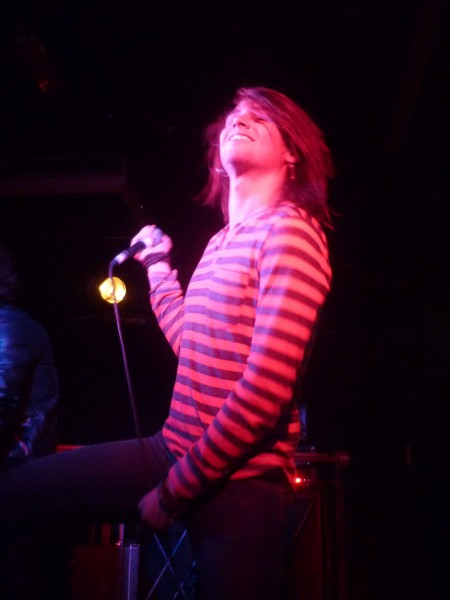 London, 4th November
The thing with being a goth who dabbles in rock n roll or perhaps a rocker who dabbles in goth is that you end up forgetting that you will either end up choking on dry ice and hairspray fumes, or with a Gibson SG-masked crotch shoved unsubtly in your face by an enthusiastic opening band. This gig entailed the latter, although it also epitomised the very reason my pretentious and artsy-leaning self is unable to give up the world of red-blooded classic rock as it was a truly life-affirming evening of quality sound.
In a surreal reprisal of Voodoo Six's last headline London show, Cambridge rabble-rousers The Treatment were the opening act, this time featuring longer hair and thankfully a direction they were lacking last time. They specialise in the heavy metal party rock that is played almost exclusively by young men of a certain age and attitude and liking of a certain Guns N Roses debut, and the last seven months have benefitted them hugely, as they have morphed from a bratty shower of rockers into a full-on good-time sleazy rock outfit with a degree of panache that now backs up their very overt rocker attitude. There are points they could do with toning down the swagger to let their songs speak for them, and they still feel like their music could do with tightening and a kick up the backside to put it in the same class as their attitudes, however the wailing guitar solos, solid and playful drumming and assured and good-humoured presence of their frontman (who has settled into a persona approaching a charismatic hybrid of Steven Tyler and Ian Astbury in their respective primes) offset the wobbles of a young band still finding their footing and I would like to see where they go from here.
Godsized were a massive contrast in some respects. Although they did retain the overall personal friendliness as a band, their set created what was indeed a godsized noise, with a seismic heavy metal attack of such ground-shaking intensity that at multiple points in the set I felt the sound was rattling my ribcage enough to dislodge one if not both lungs. They specialised in the form of metal favoured by men who get a kick out of draping army netting over their sprawling drumkit, a technically flash set of guitar solos and deeply grooving feral basslines all underpinned by savage and talented drumming, pushed into the realm of the enjoyable by a down-to-earth attitude and fearsome set of addictive riffs heavier than an iron monster truck. They pushed nearly every song in the set beyond the 5-minute mark with extended solos, but thankfully their workmanlike attitude stopped them from jumping into the territory of "wanky live metal act".
The headliners, Voodoo Six, are a band I have already developed a healthy appreciation for, their music being in possession of that place in my heart reserved for bands who have grabbed my ears with one song, and a stellar gig in March that was the debut of new singer Luke Purdie confirmed my suspicions that they are a truly luminary live band. Their brand of old-school classic rock/heavy metal sans wanky bits (occupying a dimension between Led Zeppelin, Jimi Hendrix and Soundgarden) combined with an entirely good-natured and enthusiastic stage presence means that each set not only rocks with a titanium hardness, but feels like a celebration of the energy and power rock music can possess. Blending heavy metal technicality with rock precision and a taste for melodic and addictive riffs, Voodoo Six are a powerful sonic presence. Each member pours heart and soul into their part, with bass and dual guitar blending independent melody lines into a solid and flowing groove-machine as drummer Grav bashes his drumkit into the ground with astounding control and finesse given the sheer volume and energy of his playing style. And hats off to new man Purdie, as he has found his footing in such a powerful unit. Last time, he still seemed a bit self-conscious among the lineup, being assured and powerful but perhaps a little restrained. This time, he was a through-and-through showman, engaging totally with both band and audience. His throaty yet melodic singing matches the band's sound as perfectly as you'd ever hope for, and he showed as much enjoyment of the breathtaking guitar solos and instrumental sections as the instrumentalists and indeed the hugely appreciative audience did. The new tracks off their recent release 'Fluke?' displayed a huge vitality and the sparse older tracks in the set had a new life breathed into them and not once did the set drag.
In the end, I came out of the Underworld footsore, sweaty and grinning from ear to ear. Voodoo Six as a live show are a truly life-affirming experience. Find them, hear them, see them, and fall in love with them just as I have.
Author: Katie H Halinski