Spotlight Kid – All Is Real/April
aaamusic | On 27, Nov 2010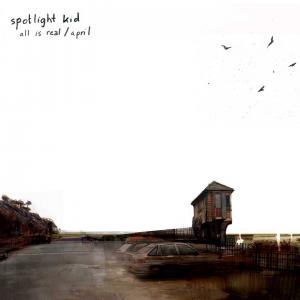 There seems to be a rise in underground shoegaze psychedelic rock right now in the UK, and it has to be said that few do fuzzed-out melancholia better than a nation whose main export is quiet pessimism. And as with any scene, it's only a matter of time before supergroups start cropping up, as is the case with Spotlight Kid, Nottingham's latest gloomy static-merchants, featuring members of Six By Seven and Echoboy to name but a few.
Their debut single, 'All Is Real' is a near-pristine exercise in morose, static-drenched indie rock. At its heart beats the melodic sensibilities of poppier outfits such as Sunny Day Real Estate, and there is a sense of blessed-out shimmer amongst the fuzz, but the band's overall lasting impression is one of slow-paced guitar jangles wreathed in a fog of effects and droning, trippy vocals weaving in and out of one another. The drums are a skeletal structure that looms out from the mire, largely free of effects to create a fast and rhythmic backbone to the atmospheric jangles and thickly pulsating single-note bass. The b-side 'April' once again cloaks pop hooks in layers of gauzy effects, the bass here throbbing out a sad, melodic riff beneath heavy muting, and the guitars are so distorted they sound backwards, countering the sharp and clattering percussion. However, no matter how bitter the music is, the sweetness of the vocals mean that the song is more dreamy than depressed, with soft female vocals blending seamlessly into the male lead to create something rather beautiful.
The whole lineup are clearly very talented, and the pop leanings hidden amongst the My Bloody Valentine-isms mean that both tracks are not only distinctive but highly accessible. I would say that there are similar bands out there with greater emotional impact or better atmospherics, but Spotlight Kid's distinctive style of glimmering ethereal songwriting has resulted in an assured gem of a release that may yet prove to make the breakout band of a new scene, the balance of mood and musicality making it perfect for copious and deserved radio play. All I can say is bring on the 2010s shoegaze movement.
Author: Katie H-Halinski