Japanese Voyeurs – Milk Teeth
aaamusic | On 02, Dec 2010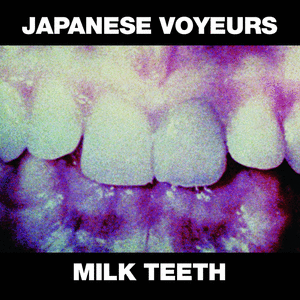 There's something heading towards you. It is sweet and shadowy but violent and loud as all hell. Like a hoard of Vikings fronted by a malignant fairy, Japanese Voyeurs are coming, and they want your blood and your soul. As if their latest single 'Milk Teeth' wasn't in itself disturbing enough with its lewd, disturbing Freudian lyricism, it is accompanied by a grotesque video that David Cronenburg would be proud of.
The track itself picks up where Daisy Chainsaw and Bikini Kill left off, with truly evil grunge rock blast of arrhythmic stop/start heat. Rampant drumming provides the manic backbone for chords that assault any delicate sensibilities and bludgeoning bass, and it is all topped off by the toxic saccharine yowls and croons of Romily Alice, a woman who sounds like a five-year-old with a chainsaw aimed at your face. The track revels in the dark psychopathic filth in the human mind, celebrating all the nastiness people repress and the result is a sick, addictive eruption of catharsis.
Not for the faint of heart or hearing, but with a destructive furrow of gleeful inhuman chaos set to be carved across the land with upcoming tour dates, I would highly recommend the brave amongst us to see this band now before they get quarantined.
Author: Katie H-Halinski