Magic Waves festival 2010
aaamusic | On 02, Dec 2010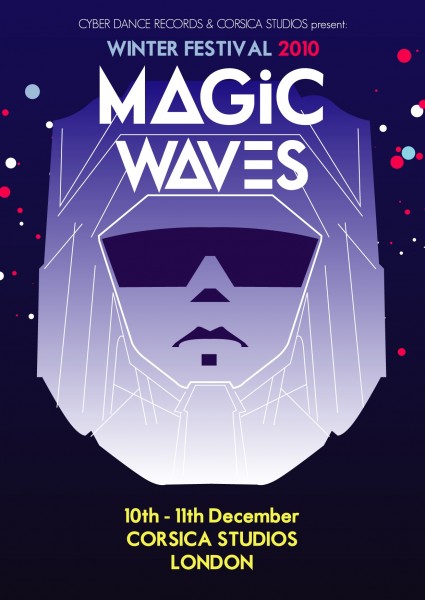 Friday December 10th – Sunday December 12th, Corsica Studios, London
Genuine electronic heaven alert: Magic Waves festival returns for 2010 with a line up that goes way beyond perfect.
After last summer's hugely successful weekend-long-fun-riot, Magic Waves festival is very excited to return with the undisputed best in italo disco, actual electro, new beat, EBM, cold wave, techno and more – guaranteed to blast away your winter blues and avoid any unsavoury tent-or-weather-related woe.
To be held across two nights in London clubbing institution Corsica Studios (featuring the very best audio from Function One sound systems in two rooms), this bonanza of sonic brilliance will commence on the evening of Friday 10th, December and power on until 6 am, December 12th, with a gap in the middle (see below).
Here's a free Cassionova mix, to give you a taste of what to expect:http://www.magicwaves.co.uk/2010/10/casionova-colder-than-steel-vol-1-and-2.html
ARABIAN PRINCE aka PROFESSOR X (live set) – N.W.A/Stones Throw / I-f Viewlexx/Murder Capital/Intergalactic FM / THE HACKER (DJ) – Different Recordings/Turbo/Minimal Rome /HASBEEN vs HASBEEN AKA Alden Tyrell vs DJ Overdose (live set) – / TLR (DJ) – Creme Organisation / RUDE66 (live set) – Creme Organisation /Bunker /
DYNAREC (live set) – Nature/Vaporwave / GESAFFELSTEIN (live set) – Zone/Turbo / MARK DU MOSCH (DJ) – Moustache/SD/Cyber Dance/Lunar Disko / ALI RENAULT (live set) – Cyber Dance/Human Shield/Moustache / FANCY & SPOOK (live set) – Slabs Of The Tabernacle
CESTRIAN (live set) Bunker/MNX/Human Shield/SOM / SHEMALE (live set) – Bunker /FONTEYN (DJ) – Banished to Frigia/Computer Blue/Nuke Them All / ANTONI MAIOVVI (live set) – Cyber Dance/Caravan/Fright / MESCHI (live set) – Cyber Dance/Dream Machine / MAGNUS BLOMKVIST (DJ) – Nerd Network/Flisko Disko / BRASSICA (live set) – Cyber Dance/Nocturnes/Gold Blood / GATTO FRITTO (DJ) – Fritto Morto / TOMMY WALKER 3 (live set) – Cyber Dance/Human Shield / PETER MANGALORE (DJ) – Human Shield / BILL AMBROSE(live set) – Banished to Frigia/Cyber Dance/Body Box / SERIOUS LOVER (live set) – Cyber Dance /CHRIS FLATLINE (DJ) – Endurance/Future Brain / ANDREW INGRAM (DJ) – Slabs Of The Tabernacle / FRED BENTOS (DJ) – Centre Neptune/Rave Cave

Magic Waves Festival 2010:

50 limited early bird tickets: http://www.wegottickets.com/event/95467<http://www.wegottickets.com/event/95467>
10pm Friday December 10th – 6am Saturday December 11th
10pm Saturday December 11th – 6am Sunday December 12th
Corsica Studios
4/5 Elephant Road SE17 1LB
Two minute walk from Elephant & Castle tube