Happy Christmas from The Pipettes and Fortuna POP!
aaamusic | On 09, Dec 2010
HAPPY CHRISTMAS FROM THE PIPETTES and FORTUNA POP!
THE PIPETTES
"Santa's On His Way"
Digital Download Single
Fortuna POP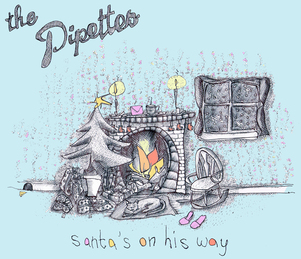 2010 has truly been an incredible year for The Pipettes, with their Martin Rushent-produced second album Earth vs The Pipettesreceiving great acclaim everywhere from Mizz to Rolling Stone and sold out tours across the UK, Sweden and Germany. Now they're celebrating by spreading Christmas cheer for all to hear by giving away a free Christmas song "Santa's On His Way" from the Fortuna POP! website (http://www.fortunapop.com/free_download.php?id=21).
It has been an amazing year for Fortuna POP! too, with hit albums from Tender Trap, Darren Hayman and Allo Darlin', not to mention new recordings by The Pains of Being Pure at Heart.
If we push past the snowflakes and Christmas cheer for just a second and look in our crystal balls into 2011, Fortuna POP! again seem geared up to have another stellar year and will be celebrating their 15th anniversary with lots of special events, releases and shows. They're also delighted to have signed Brooklyn's 60s psych darlings, Crystal Stilts, who will be releasing a new album in the spring and of course, let's not forget the hotly-anticipated second album from The Pains of Being Pure at Heart in March. Look out for new albums from Bearsuit, Comet Gain and The Loves as well as a very special single by 80s pop icons, The Primitives.