Laura López Castro & Don Phillipe – Optavio
aaamusic | On 14, Dec 2010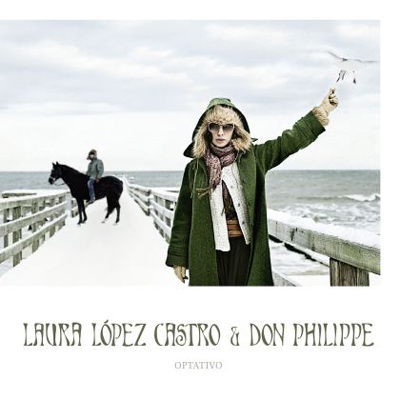 Featuring glacially clinical cover photography and chilling, evocative avant-garde strangeness, 'Optavio' is definitely at the art end of the art-pop spectrum. Somewhere between acoustic singer-songwriter and Philip Glass minimalism. But wait! Come back dear reader, as this is not just another irritating hipster art release, this is something else entirely.
'Prólogo' is a good indication of the album's content, and a poor one. Ghostly shades of blues and Spanish guitar meld with fluidity, and yet it doesn't quite capture the cinematic strangeness into which this album dives.
'Has De Saber' is incredibly mournful in tone, the lilting minor-key guitar creating a simple yet mesmeric melody, over which Castro's increasingly powerful vocals channel Nico. Dull bass drum thumps out a funereal samba as the track grows into itself, and the track once again fleshes out from pop to art. In contrast, 'Ki Chororo' is almost upbeat in its own sombre manner. Clave-style rhythms and a guitar melody that you can easily dance is blended with vocals at their most seductive and little tweaks of atmosphere in echos and phasing. 'Noche Eterna' is another web of contradictory emotion, its busy percussion and skipping guitarwork belying the sinister overtones.
The arthouse vocal layering that introduces 'Farawala' would indeed intimidate those looking for a straightforward pop record, as Castro's ethereal Spanish vocals drift on top of one another like layers of gauze, creating an eerie echoing tapestry of sound before the main song starts: a combination of the ethereal vocal style, warm-hearted Spanish acoustic guitar, and subtly clicking percussion. It builds again, the layers piling up in an almost organic fashion to an evocative cutoff.
The closest to your familiar song is the sublime acoustic pop of 'Mi Cansado Corazón Despierto', which once again carries the fingerprints of such singers as Nico and Johnette Napolitano in the evocative and mournful female vocals, albeit with a distinct Spanish twist in the guitar. A piano flutter in the bridge adds shades of Danny Elfman in its wintery aesthetic, and the result is something understatedly breathtaking. However, the spoken word/singing layered approach of ' Sin Miedo' is musically almost the delicate spectre of a forgotten romantic ballad with acoustic guitar and ghostly chimes, or even a fairytale in its storytelling tone.
Winding things down into a bleak lullaby is 'Viejo Océano'. Subtle dischord in the piano melody ensures the listener is never fully at ease, but the music on offer is so darkly fascinating one can't help but be hooked by the hybrid of minimalism and acoustic pop. However, award for darkest track would have to go to the desolate, whispered 'Leviatán', with its menacing bass rumble, otherworldly percussion and hypnotic guitar, all caressed by a truly chilling whisper and plaintive crooning.
'Optavio' is an evocative piece of European strangeness the likes of which I have never heard. Alien yet never alienating, this is a subtle work that is pop enough to draw in the listener yet unusual enough to keep them guessing. The multifaceted lounge music of a thousand fever dreams, this is in a class of its own.
Author: Katie H-Halinski