In Flight Safety – Big White Elephant
aaamusic | On 16, Dec 2010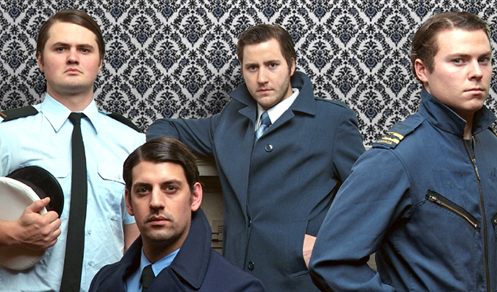 Looking for something to gently soothe the bite of the cold weather this week? Bearing in mind that Canada's icy nature means that its residents understand this search very well, I present you In Flight Safety's new single: 'Big White Elephant'.
Parts of the track are heavily reminiscent of post-punk and new wave. Think Echo And The Bunnymen with a poppier lean, or a pastel-hued Depeche Mode. The guitars are light and jangly with a well-executed use of echo, not to mention  a melody line lifted directly from the 1980s. Following on from this is the use of emotive layers of synths (here, string sections and pianos) and warm, melodic bass that is satisfyingly forwards in the mix. The drumming is mixed to a T, a subtle balance of crisp and delicate that really accentuates the sound as a whole. And then there are the vocals: deliciously warm, beautifully expressive and sweetly mournful, the ideal tones to have in your ear on a frosty evening. Lyrically, this track is surprisingly downbeat, the blissful tones belying the sombre subject matter. However, this isn't an entirely retrospective nostalgia cash-in. More than a subtle shade of modern pop and indie can be found in the simple yet well-played song structure, and the melodies and style borrow not only from the aforementioned 80s figureheads, but from modern stadium bands such as Coldplay.
I'd say that there isn't a massive amount of innovation going on here, but despite my near-pathological aversion to most things mentionable in the same sentence as Coldplay, I find myself oddly hooked on this glossy and highly accessible single. Given the right opportunity, In Flight Safety's brand of emotional, thoughtful and very well-crafted indie pop could find a well-deserved wide audience.
Author: Katie H-Halinski