Alexander Tucker/Imbogodom tour – Jan 2011
aaamusic | On 22, Dec 2010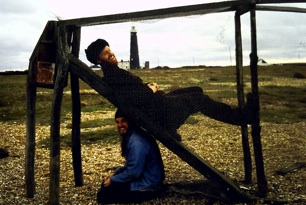 Thrill Jockey Records are delighted to announce the signing of UK artist and musician Alexander Tucker. Having worked with him on the Imbogodom project with New Zealander Daniel Beban, it only seemed natural to continue the relationship with further releases. Alexander Tucker's next solo album is scheduled for release in April 2011.  Tucker embraces improvisational compositions with drones and layered vocals constructed using detuned guitars, tape loops and fx pedals. As well as recording solo records, Tucker has performed with a variety of artists including Fuxa, Stephen O'Malley (Sunn O))) + Khanate) and Daniel O'Sullivan and Dave Smith of Guapo.
Imbogodom are the UK's Alexander Tucker and New Zealand's Daniel Beban. The Metallic Year is their Thrill Jockey debut and first release under the Imbogodom moniker.  Mutual friends in sound  exploration, this Trans-Atlantic duo create other-worldly transmissions where improvisation gives way to mutated song forms and intricate soundscapes.
Imbogodom began life inside the depths of BBC's Bush House, where Beban worked nights as a world service radio engineer. Taking advantage of the empty studios, Tucker and Beban dusted off the disused reel to reel tape machines and put them to work.  Splicing together tape loops, the duo dove into the fine and nearly lost art of tape editing. While this technique is challenging, the process often yields great rewards.  Using an array of instruments, objects, dictaphones, and voices, the duo switch between one operating the tapes and mixing desk and the other being the player. Through this process of roll exchange, the duo were able to remove the divide between player and manipulator to create a pure sonic interaction and unique meeting of minds.
The Metallic Year is a collection of eerie tracks where sound collage and unraveling songs present a haunted world of spooling atmospheres, warped instrumentation, and disembodied voices. The nocturnal creations were inspired by the tape experiments of BBC's Radiophonics Workshop, Terry Riley, Steve Riech, and their love of New Zealand musician Alastair Galbraith.  Imbogodom continue in the tradition of these sonic pioneers to bring new sounds from old sources.
Daniel Beban is a musician and sound artist living in Wellington, New Zealand.  Stretching himself across many bands and musical projects, Beban plays with Dr Quirkey's Goodtimes Emporium Band, Little Wet Horse Orchestra of Spheres, and his solo project Sign of the Hag.  He also runs a night of experimental music at The Frederick Street Sound and Light Exploration Society in Wellington.
Alexander Tucker is a London based musician and artist.  Recording under his own name, Tucker has released four albums of experimental song writing, sound collage, doom riffage, and orchestral composition.  He continues to release records on the ATP/Recordings label.