Irie Dan Bless releases new album 'Darker'
aaamusic | On 22, Dec 2010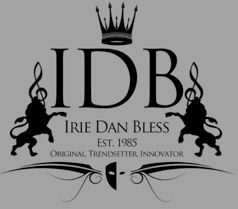 Irie  Dan Bless is flying at the moment. He is currently appearing in the RWD magazine Christmas edition in which they push him as the next artist to watch out for in 2011.   His first single 'I'm Going Crazy' is also currently on heavy rotation on Channel AKA and FLAVA TV, whilst also appeared in 'After Effects' (Mark One Films ) – an anti Knife / Gun crime film that will appear in all schools around the uk plus Channel 4.
Irie Dan Bless is a rapper and Music-Song writer from Bedford Town. He has been making music from the age of 8, has entered talent shows, and won awards. Irie went through to the Urban Voice UK Talent Competition; and was one of 7,000 people to get to the finals. He finished in the Top 5! Along the way he has appeared on stage in front of thousands at venues such as the Hammersmith Ocean in London, Jazz Cafe and the Birmingham NEC.
The Bedford born artist is not only a musician but has also been acting since the age of 10. He has played many small TV roles  appearing in Holby City, Trouble TV, Channel 4, and Sky One.
As an unsigned artist, Irie Dan Bless has had to do a lot of work to get where he is now. He has released various mix tapes including 'Poker Face' hosted by Mykal Million which sold thousands of copies independently. His first professional video was called 'Jack Da Swagger' directed by Mark One, and his first single 'I'm Going Crazy' was championed by people like BBC 1 Xtra, Channel AKA and FLAVA TV which has helped to put him on the map as a versatile up and coming UK artist.
Irie Dan Bless featured in a full page spread in the 100thth issue of RWD Magazine promoting himself as an unsigned artist along with his first single 'I'm Going Crazy ft. Bc Da Bossman.'
Irie Dan Bless is not seen as someone who sticks to one genre of music as he is able to adapt to various genres which he warps into his own 'New Age' formula . This includes Hip Hop, Rock, Indie, R'n'B and Electro. With his lyrical content  Irie likes to use a lot of punch lines and innuendoes. He is set to take the scene by storm as one of the first artists from outside London to have gained such a large fan base independently.
Look out for the album 'Weird Science' later on in the year 2011.
'Darker', the new single from Irie Dan Bless ft MC Bass man is a new age, electro, indie, hip hop track, with a hard rock chorus !! It takes from every genre and falls into none, and is the track that innovates and elevates Irie on to a new platform  as a music artist.
The video to the track is currently in production and is being directed by George Lupin who is known for directing N Dubs videos.  The idea behind the video is to adapt 'Teen Wolf ' the legendary 80s film starring Michael J Fox  in which he  turns into a ware wolf.
B Side 'Snakes and ladders' is an electro house track with a big ass bass line and synth to give it that current dance floor swagger.
The single darker is out on all digital downloads feb 10th 2011. The first single from Irie  'Im Going Crazy' is out now on digital downloads. Look out for the album 'Weird Science' later on in the year 2011.
MORE INFO: