Swimming Announce New Single 'Sun in the Island'
aaamusic | On 31, Jan 2011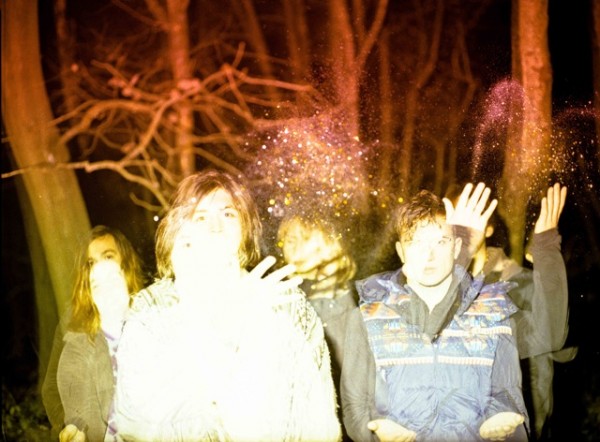 "Like an indie hovercraft powered by amphetamine guitar- The Times
"Thrumming Krauty alt rock that knows the value of thrill" – NME
"Listening to Nottingham Swimming is like going on a kind of magical, out-of-this-world adventure- Rock Sound

Sun in the Island is the first single from Nottingham five piece Swimming's forthcoming album and will be the first release on EVR Records, the new singles label from New York City's influential East Village Radio (EVR). Like a bright spectrum of colour on an otherwise bland musical landscape, Swimming are here to shine out and hold their own against the other hotly- tipped bands this year.
Swimming are singer John Sampson, his brother Peter Sampson and three old friends (Andrew Wright, Jonthathon Spittlehouse, Blake Pearson), brought together by a  love of electronic music and sonic exploration that has turned Swimming into a unique prospect  in 2011 – a band with loud guitars, floating synths and a genuine talent for writing great songs.
Sun in the Island is a glorious psych- pop song which folds vintage synths and textured beats into John's ethereal falsetto vocals, and explodes into a kaleidoscopic blast, with a truly anthemic chorus of saturated guitars and soaring melodies.
B-Side, Team Jetstream (Pre Flight Mix) is an equally exhilarating affair – rich and elegantly soulful yet pulsating with rumbling D'n'B rhythms.
The 5-piece showcase their penchant for sonic exploration with an accompanying film of a magical acoustic version recorded binaurally in a dome, deep in Kielder (UK) forest. Available here: www.youtube.com/swimmingband
Since releasing their first, home-recorded and self released album Swimming's genre-defying music has gained the band numerous influential fans including Chris Morris, The Fly magazine, Huw Stephens, NME amongst many others.
Each month EVR Records will release one single on 7vinyl and digital formats from an artist chosen by a different EVR DJ. Artists will mirror the broad range of musical genres heard around the world on East Village Radio.

Further information about the album and details of a UK tour will be announced shortly.
www.myspace.com/swimmingband
www.swimmingband.com