Pushking – The World As We Love It
aaamusic | On 01, Feb 2011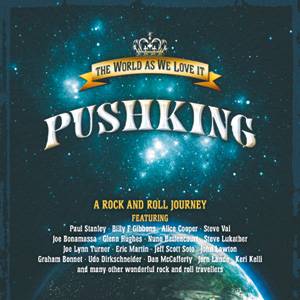 A real dream team joined the Russian band Pushking to record their new album titled "The World As We Love It". The list of guest star is impressive: from Alice Cooper and Billy F. Gibbons (ZZ TOP) passing through Glenn Hughes (ex-DEEP PURPLE), Nuno Bettencourt (EXTREME), Paul Stanley (KISS), Steve Lukather (TOTO), Steve Stevens (BILLY IDOL) to Steve Vai…and they are not the only ones!
The centrepiece of this work is the good track It'll be OK, supported by Gibbons and by the amazing solo by Bettencourt.
This album (produced by Fabrizio Grossi) contains 19 tracks and they are a real summa of hard rock, blues ballads and a touch of 80s glam and thanks to its guest gains further originality, technique and emotion. To believe what I'm saying it's enough listening to Steve Vai playing in the beautiful  My Reflections After Seeing The Schindler's List Movie.
Troubled Love is enriched by the legendary presence of Alice Cooper while Glenn Hughes' powerful vocals enchant people listening to Why Don't You, a moving ballad, Tonight (one of the best tracks) and the energetic  Private Own. In a word, The Voice of Rock is always the same.
Kukarracha ends the album with the presence of Steve Lukater, Glenn Hughes e Paul Stanley performing a triumphalist final for a work that will not disappoint classic rock lovers.
Author: Luca Cirillo