'Lover's Lane' exclusive download from the forthcoming 'Hunx And His Punx' album
aaamusic | On 03, Feb 2011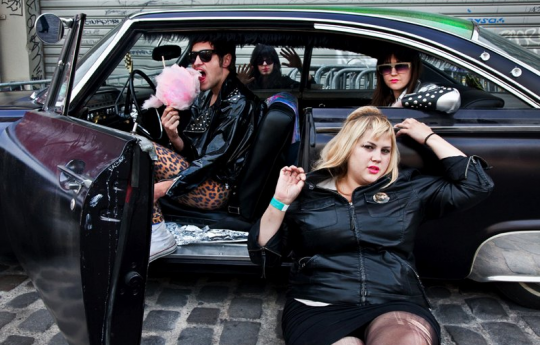 Too Young To Be In Love is the first fully-realized Hunx and His Punx album, and the group's first for Hardly Art.  It was recorded in New York City by Ivan Julian-one of the founding members of inimitable NYC punk legends Richard Hell and the Voidoids.  This record was made in the same studio that one of Hunx's idols Ronnie Spector once recorded in. While it is preceded by the Gay Singles LP (True Panther Sounds/Matador Records, 2009), a collection of hard-to-find and out-of-print 7″ singles, Too Young To Be In Love is their first proper studio record.
Too Young To Be In Love also marks the first time the group has ever been comprised entirely by "punkettes"-another name for the all girl band that band leader Seth Bogart (aka Hunx) always dreamed of. Shannon Shaw (of Shannon and the Clams) plays bass, and wrote three of the album's songs. Her powerful voice on "Lovers Lane" and "The Curse of Being Young" crackles and breaks with a raw ferocity that perfectly complimentsHunx's swoon-worthy nasal croon. This album also represents a distinct reversal of roles: the all-girl quartet (Shaw, plus guitarist Michelle Santamaria, drummer Erin Emslie, and Amy Blaustein on guitar/organ) bring the fire… while Hunx brings the softness-the sweet, oh so sweet, sugar.  All of the ladies sing on this album, and their voices combine to create some modern Wall of Sound magic.
Hunx and His Punx might be the first ever "girl group" fronted by a flamboyant gay male whose dream in life is to sound like a girl. They have created a unique new sound they refer to as "Young Oldies", a mixture of 50s teenage rock n roll, 60s girl groups and bubblegum pop.
Hunx is that boy you just wanna kiss-maybe after sharing a triple-scoop ice cream cone, then roller-skating with the Shangri-Las and Redd Kross rotating on a never-ending loop. He's the boy in that picture from your high-school yearbook-the one you pasted sparkly red heart stickers all over, then taped inside your locker. He's the boy you fantasize about because he always saves you from your broken heart. You've never met him-but you love him… because you know he believes in love.
Download Lovers' Lane here:
https://rcpt.yousendit.com/1036941687/b05e2fb05ffd894d484802e9cefe7172
Hunx and his Punx
Too Young To Be In Love (Hardly Art)
Track Listing:
1. Lovers Lane
2. He's Coming Back
3. Keep Away From Johnny
4. The Curse of Being Young
5. Too Young To Be In Love
6. If You're Not Here (I Don't Know Where You Are)
7. Bad Boy
8. Tonite Tonite
9. Can We Get Together?
10. Blow Me Away