Gay For Johnny Depp – What Doesn't Kill You, Eventually Kills You
aaamusic | On 09, Feb 2011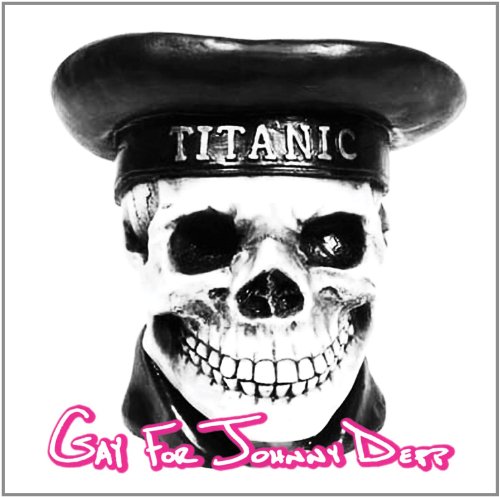 And continuing their crusade to be the most bewildering band in hardcore punk, unashamedly offensive outfit Gay For Johnny Depp are unleashing their latest full-length, 'What Does Kill You, Eventually Kills You' upon an as of yet innocent world.
We launch as we mean to continue, with 'Santa Claus, The Easter Bunny and Artistic Integrity' slamming the listener into a solid block of sheer noise, with raw yowls, a maelstrom of guitar and searing cymbals. However, as implied by the smart title, there is a brain functioning behind it all, with a tense, ominous chorus slowing the song into a sort of delicious tempo sandwich, albeit one with squirming horrors in lieu of jam. This bass-driven menace spills over into 'Suckcess', where churning riffs collide with manic hardcore punk instrumental attack, and a cutting vocal attack that blends the puerile and the acutely observed in a savage scream of the old-school. The bridge is a sickening buildup of unnerving intensity before the chorus swamps the listener once more.
In many cases, the verbose song titles are the only initial way to discern the band's real reasons for writing the songs, however this is by far and away some of the band's most intelligent material, although don't let that put you off or think they've grown soft. Their label of "spazzcore" is still entirely applicable. Precious few songs pass two minutes, and the intense bugfuck insanity of it all leaves the listener feeling like they've just suffered a breezeblock to the skull. The everything-and-the-kitchen-sink double whammy approach of 'Pink Flag' and the title track is a return to exactly what they do best: righteously offensive, angry, fast, and loud enough to use in industrial demolition. Then take the atonal climax of 'We Are The World? Burn It Down'. A simple self-destructive mission statement played in a manner that will make many lesser beings hide as the lurching swagger-march driven by unstable drum rolls, bass chugging and a keyboard stab that puts every horror soundtrack ever to shame backs up the zombie groan vocals, before it all seems to implode under its own tension into a pulsating monstrosity of sonic horrors. As for 'Nine Inch Males', I have no idea whether it parodies angsty rock, offends the general population, offers up some scathing social commentary, or all of the above. All I do know is it is eminently listenable in its scalpel-precise verses and maelstrom chorus and buildup.
The soundbite-driven wails and throbs of 'Rod Don't Surf' similarly smashes together the band's unrelenting attack against human decency (how can surfer music alone feel so unclean?), and a sense of indignation at the world and society. The churning malignance of 'No, I'm Married To Jesus' is a hooky, creeping slab of lunacy, as minimalistic verses bleed into the meat of the song's insane chorus and raging finale.
To finish off, the have the raw falsetto madness of 'Cum On Feel The Boize'. The vocals are high and rabid enough to send secret messages to dogs, and the twisted melody and catchy pop chorus gleefully sets about destroying anything that's ever entered the charts with savagely sharp cymbal tones, aggressive guitar noise and a real savagery that is disturbingly tempting to dance to.
'Whatever Doesn't Kill You, Eventually Kills You' could easily be seen as Gay For Johnny Depp's finest, um, twenty minutes. Despite belonging in what is their own invented niche and being quite possibly one of the world's least lovable bands on purpose, they have here created a blast of what is in actual fact some very smart and exhilarating songs that dislodge many preconceptions of hardcore and modern shock rock. Even if the only way to maintain personal integrity (emotional/physical/spiritual/whatever) is to don a hasmat suit for this endeavour, listening to this album is definitely on yours and everyone else's to-do list for 2011.
Author: Katie H-Halinski