The Tenebrous Liar announce new live dates
aaamusic | On 18, Feb 2011
The Tenebrous Liar
Live in Brighton Friday 18th Feb and London Monday 21st Feb
Run Run Run – Vinyl album, CD & Download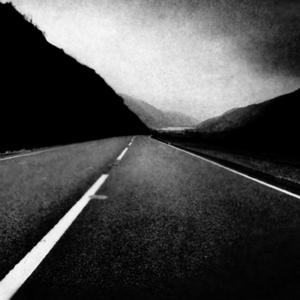 Tenebrous will play two shows this month at The Prince Albert in Brighton on Feb 18th and London's 12 Bar Club on 21st Feb.
The Tenebrous Liar new album Run Run Run, is out now on the wilfully independent TV Records.
A desolate road through a remote mountainous pass, in an indeterminate location, is the ominous cover image of Run Run Run. The highway is leading to an uncertain destination, as the darkening sky presages forbidding storms ahead. As ever, The Tenebrous Liar front man Steve Gullick's black and white photography captures perfectly the atmosphere of the brooding music that The Tenebrous Liar have created within the sleeve on hot wax. In fact, the cover artwork resembles more a motion picture soundtrack sleeve than a conventional rock record, which is somehow very fitting for The Tenebrous Liar.
Very much a companion record to their previous 2010 Jackknifed & Slaughtered LP, Run Run Run further hones down and intensifies The Tenebrous Liar's singular musical assault. Once again helmed by the gifted producer, Richard Warren (Soulsavers/Spiritualized), a renowned singer/songwriter/recording artist in his own right, the compelling Run Run Run brilliantly reflects the very real fears and tensions that enveloped the band during the album's recording period, when the combo lived in the studio in which they where actually working.
Run Run Run opens with the suitably cinematic and propulsive 'Theme Tune', a desperate flight from somewhere or someone, and the destination is 'Out'. The song 'Out' is a desperate plea for release, powered by over driven, tattered guitars, powerhouse drums and an insistent vocal screamed from the very pits of despair. Lithe drums and sinuous bass introduce 'The Sickness', a slow paced blues punctuated by cascades of molten rock guitar action from Tony Ash. 'Desire', swathed in shimmering, twanging guitar that echoes the sounds that were attendant at the birth of Rock 'N' Roll, sets a course for the open motorway, before 'Western Skies' start to cast a long portentous shadow, with broiling guitar salvos shattering the slinky furrow dug by Casey's bass and Glendining's drums.
Side Two of Run Run Run opens by way of the pointed rock riff onslaught of 'Primed Lined And Centred'. "Smacked in the face by reality," sings Gullick, with Ash, Casey and Glendining backing up his statement musically every step of the crooked way. Heavy bass and blistering guitar interjections mark the arrival of 'Angel'. Whether the seraph in question is mortal or immortal, benevolent or malevolent, is definitely open to question.
'Realise' commences with a crashing hypnotic riff. This locked down weighty groove, ever descending into murky stygian depths, is broken for a passage for Gullick's heartfelt importuning. Then 'Realise' starts slithering forward again with renewed force, soon erupting into waves of fractious feedback and blasted white heat noise. A raucous clap of shaken amplifier thunder hails a fast, distorted reprise of a flagellated take of 'Desire' before the album closes with the bittersweet and reflective 'Gaze Upon The Sea'. Steadily gaining momentum and passionate intensity, 'Gaze Upon The Sea' churns onwards towards an ill-omened silence. Will it be broken?
Richard Warren's attention to detail in the concentrated recording process of creating Run Run Run has resulted in an additional clarity of sound and sense of purpose to The Tenebrous Liar. As a consequence of having produced Jackknifed & Slaughtered just ten months beforehand, Richard Warren has helped them perfect their formidably potent resonance. Highly vigourous drummer Tom Glendining is now firmly established within the ranks of the group, making the increasingly seismic Tenebrous Liar an even stronger unit than ever before.
But perversely a dread of the collapse of the band, due to numerous unforeseen circumstances, perhaps fuels the utter commitment and authoritative tone of Gullick's song writing and the much darker music, barely contained within the grooves of Run Run Run, than previously featured on Jackknifed & Slaughtered. Throughout Run Run Run the band appear much less easily appeased than on Jackknifed & Slaughtered and their shared desire to push ever further forward musically/sonically is pre-eminent throughout the album's duration.
A dreamlike combination of searing guitar flare-ups and melodic compositions, Run Run Run holds the listener's attention from start to finish. The fact that many of the songs on Run Run Run were rehearsed extensively before going into the studio, where they were then recorded in a maximum of three takes, as well as performed live on numerous tours of the UK and Europe supporting the likes of Nick Cave, Bonnie Prince Billy, Soulsavers and Josh T. Pearson has strengthened the band's considerable emotional impact. While consumed with tempestuous anger and rage, Run Run Run never loses sight of the power of melodious seduction.
Run Run Run reaffirms The Tenebrous Liar's position as one of the most dynamic and uncompromising bands currently operating. Be sure to catch them performing Run Run Run live.
17th February – Brighton – The Prince Albert
21st February – London – 12 Bar Club