Letters – Grand National/ Pipe Dreams
aaamusic | On 21, Feb 2011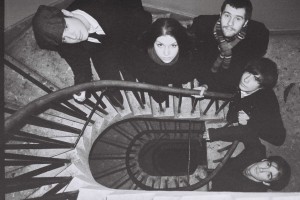 Letters are a brand new five-piece band from Edinburgh. Having formed as recently as 'in the winter' of 2010 they have lost no time at all in producing their first 'double-A' side sinlge being issued on a free download basis ahead of full physical EP release in April 2011.
Grand National is absolutely catchy and lively starting with a fast paced singing, like an accelerated tune by Enya, to turn into a pop-rock song that goes in crescendo together with drums and cello, without reaching a peak, but it goes up and down like a rollercoaster giving a pleasant surprising effect.
The vocals are soft and the backing almost choral sounding at times. Ever constant however is the resonance of the cello as it competes for superiority with the guitars.
Pipe Dreams starts with Mikey Ferguson's vocals accompanied only by cello, it's a very particular choice, creating a haunting atmosphere lightened in the refrain, sung in choir with a female voice, that soften the darkness of cellos. It is purely rock with fast-paced drums and distorted guitars, it starts like a song composed by Enya to end like a song a la Evanescence (I'm exaggerating, but it's only to get across).
This single contains good element to judge the band positively, but it's not enough to give a more precise overview of their music, I reserve the right to listen to more before giving my final opinion.
Author: Roberta Capuano