Miles Kane – Come Closer
aaamusic | On 21, Feb 2011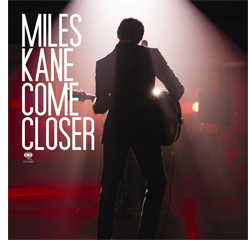 'Come Closer' – released Feburary 21 through Columbia – is a short and sharp dose of coarse rock'n'roll, which follows on from his warmly received first single 'Inhaler' (released in November last year).
Miles Kane has a lot of famous and influential friends – including the Gallagher brothers and, of course, The Arctic Monkeys' Alex Turner – but he has yet to affirm his own star in the UK rock universe. Kane made a small but admirable splash as the frontman and lead guitarist of The Rascals, but it was as co-frontman of The Last Shadow Puppets – along with Alex Turner – from which he received his current share of recognition. But alas, just as The Last Shadow Puppets completely overshadowed The Rascals, Alex Turner's participation in The Last Shadow Puppets completely overshadowed Miles Kane.
Well, Kane aims to step out from amongst the shadows with his solo material – and who better to enlist than producers Dan Carey (Franz Ferdinand, Lily Allen) and Dan the Automator (Gorillaz, Kasabian) to help propel him into the indie spotlight.
According to Kane (in his press release), 'Come Closer' is "a good first proper single ("proper" since this time there as a physical release), because it has all the elements…a bit sexy, sleazy, with cool guitar". Infused with a kind of 60s swagger, it has more in common with the edgier recordings of The Rascals than his work with Turner. It is, essentially, a rock'n'roll song you can party to – a trait that is all too often missing from modern indie music. Backed by just a simple, tight bassline and a marching drumbeat – both bordering on monotonous – Kane is free to take charge of proceedings. And he does so with gritty, garage-rock guitar licks and snarling vocals, inserting a raw and riveting solo towards the end. The key to this track's charm is in its chorus, which, despite having a rather catchy pop melody, is fairly generic stuff – basically a bunch of 'Wooahs' followed by a load of 'Aaaahs'.
Nevertheless, this is sexy stuff from the ex-Rascal and will ensure Kane's departure from the shadows – he has, it seems, stepped out from the last of his shadow puppets (I'm sorry, enough with the shadow anti-jokes). Look out for his debut album 'Colour Of The Trap' on April 25.
Author: Clive Rozario