Turisas – Stand Up And Fight
aaamusic | On 23, Feb 2011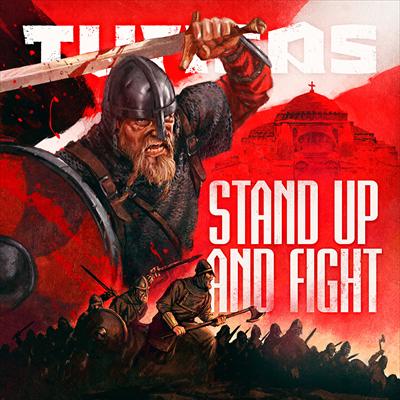 It has to be said, Finland does arguably hold the crown as far as the stranger realms of metal are concerned, and Turisas are not about to challenge this with their latest battle metal epic, 'Stand Up And Fight', which is described as a loose sequel to their previous release, albeit with more universal themes that go beyond the Viking age, as well as a genuine string and horn section in the studio, which can only be a plus.
We open with the suitably grandiose 'The March Of The Varangian Guard' and yes, the real horns and strings do make the opening fanfare really burst forth from the speakers, propelled by the gunpowder of a metal guitar. Elsewhere, the drums patter out a march and the Nygard's dulcet tones snarl out the Viking lyrics. The chorus has a great shanty singalong style, and one can only throw the horns in salute to such expansive soundscapes like the all-out instrumental section. 'Take The Day' follows on, with a cinematic intro that builds with determined percussion before adrenalin-pounding stadium-filling metal as only the Finns can produce dominates. Verses are sombre and driven by strings and bass guitar throbs, and the chorus is led in by rock drumming and savage chugging guitar into an explosive climax, the lead vocals roaring like Odin's fury, the backing sounding like an army of metalhead beserkers.
'Hunting Pirates' is an evocative sea shanty metal juggernaut of a track, sinister, sneering and with all the energy of Jack Sparrow. Great riffs and solos on the accordion? Yes maties, with a fantastic chorus and some hot guitarwork to boot. 'Venetoi! – Prasinoi!' is another fanfare-driven track, where the instruments both symphonic and heavy metal weave into one another with fire and excitement sparking from each note. Flawlessly orchestrated without a single flaccid part, this is a thrilling track on the scale of Ragnarok itself in sound, production and skill. 'The Great Escape' is equally gargantuan, a full-on sweaty, muscular heavy metal swaggering march dominating the proceedings with snarling guitar and cavernous, pounding drums that leap taught from the speakers like hounds from Hel. The Jekyll/Hyde vocal style is used to great effect, emphasising the contrast between savage and symphonic with rasps, roars and operatic tones. The drums tumble and everything else soars, building up to an exhilarating, heroic climax of cymbals, chord chugs and string flourishes.
Title track 'Stand Up And Fight' starts with a suitably rousing string section/guitar riff intro, before atmospheric tremolo and deep, melodic vocals paint a desolate portrait over pounding stadium drumkit and subtle keyboard nuances, with some evocative and powerful lyricism, it has to be said. The chorus is an epic unfolding of chugging guitars, and the music itself almost narrative in its expressive guitar roars and soaring strings.
With respective lengths of 6 and 7 minutes, 'Fear The Fear' and 'End Of An Empure' should be overblown concept album noodlers, and yes there is a lot of bombast afoot, but it is tempered by real musical power. The former is an evocative and sprawling number of operatic proportions, albeit an opera driven by a bassline of North Sea thunders, and drumming the likes of which could rival Thor's hammer. The lyrics are a little loopy but do in fact speak inspiration to the listener. The latter is tipping right back into concept and the cliché piano balladry does teeter on the dubiously out of place, but fret not. The band know not to dwell on this, and soppy is pushed out of the way by arena-aiming symphonic metal majesty. Full choral arrangements, galloping rhythms, synth/string/cymbal verses, no stop is left in place as the band give us the penultimate chapter.
We close with the sombre 'The Bosphorus Freezes Over'. As beautiful and cinematic as you'd wish for in its evocative strings, brass, and choral arrangements, it is a moment of tranquillity, bringing the experience to an end not only sonically, but as a narrative, as spoken word tells us "It's not what we take with us, it's what we leave behind… and that's where we find our end."
I have my doubts as to whether Turisas will ever achieve worldwide arena tours on merit of their undoubted strangeness. However, equally undoubtable is that their music is not only incredibly esoteric, but a work of incredible skill and passion. However mad they may be to make this stuff, I can't help but feel that heavy metal is all the better for it. Anyone who likes their metal to be full of fantasy and flourish will adore this album, as 'Stand And Fight' may well be the pinnacle of battle metal, pushing the bounds from inaccessible silliness into thrilling, enjoyable, well-orchestrated rocking and roaring.
Author: Katie H-Halinski