Funeral For A Friend – The Making of 'Sixteen' VIDEO
aaamusic | On 24, Feb 2011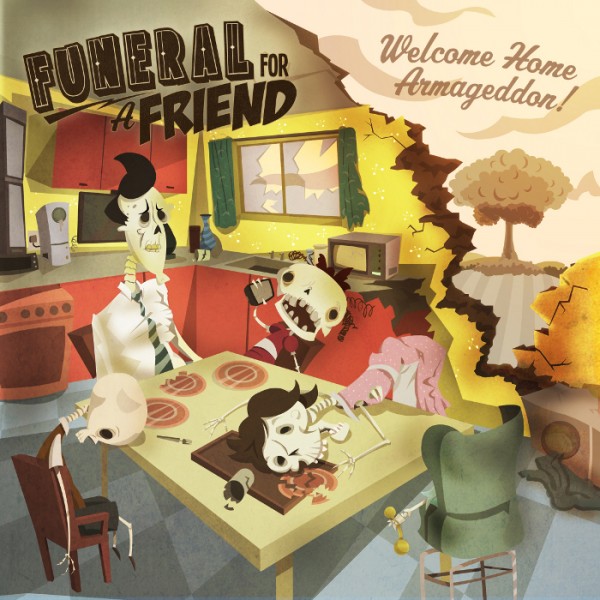 Single 'Sixteen' to be released 28th March
New album 'Welcome Home Armageddon' set for release on 14th March
UK tour in March / April
(Distiller Records)
www.ffaf.co.uk |  www.myspace.com/funeralforafriend |  www.facebook.com/funeralforafriend |  www.twitter.com/ffaf
Funeral For A Friend – Behind The Scenes of 'Sixteen'
http://www.youtube.com/watch?v=f-2tQSfErH0
Funeral For A Friend – 'Sixteen' MUSIC VIDEO
http://www.youtube.com/watch?v=MYku0Dl9m7c
Matthew Davies-Kreye – vocals  |  Kris Coombs-Roberts – guitar, vocals  |  Gavin Burrough – guitar, vocals  |  Ryan Richards – drums, vocals  |  Richard Boucher – bass
Welsh rock legends FUNERAL FOR A FRIEND are set to release new single 'Sixteen' on 28th March. This will follow the release of the band's fifth studio album 'Welcome Home Armageddon' which is out on 14th March. Produced by previous collaborator Romesh Dodangoda, the band homed in on the essence of their new material in a way which would present the new tracks as being as true to their live show as possible. The result of this approach will no doubt send shivers down the spine of many a FFAF fan.
Drummer / vocalist Ryan Richards explains the genesis of new single 'Sixteen' – "Matt originally came up with an acoustic skeleton of the song and we all loved it, but in the form it was in at actually sounded more like a Secret Show (Matt's country side project) song. The melody and the lyrics were so good that we had to find a way to make it work. It was definitely a lot of fun having the band interpret the parts in our own individual ways and turning it into a Funeral for a Friend song."
Funeral For A Friend recently released a track from the forthcoming album as a free download to get fans excited about the record's release. The excitement soon filtered through to radio and TV who picked up on 'Front Row Seats to The End of The World', with multiple plays coming from Zane Lowe and Dan Carter on Radio 1 and the video for the track rocketing to Number 1 on Scuzz's chart as well as getting main playlisted at Kerrang! TV.
Embracing the heady mix of raw heaviness and pure melody which helped establish the band's name when they were starting out, vocalist Matt Davies-Kreye describes the album as "a fist in the face followed by a kiss on the cheek". The heavier vocals take an integral role on several of the tracks. From the fast, punky feeling of 'Old Hymns', through the seven-string guitar led riff spectacular 'Aftertaste' and the even more riff-heavy 'Spinning Over The Island', FFAF have crafted an album of potential classics with each track as exciting and unpredictable as the one before it. Anthemic songs with killer melodies such as 'Sixteen' and album closer 'Welcome Home Armageddon' are further demonstrations of the band's songwriting prowess and their ability to incorporate a multitude of different musical elements.
The band will also hit the road in March / April next year with a string of dates at intimate venues, some of which are in towns they've never actually played before. The extensive run of dates has been purposefully plotted to traverse through those venues which both longtime fans and those who have discovered FFAF in recent years will appreciate for their up-close-and-personal feel. Support on these dates will come from fast rising British band Rise To Remain.
FFAF Headline tour (support from Rise To Remain)
Wed 16 Mar            Aberystwyth            Arts Centre
Thu 17 Mar             Buckley                    Tivoli
Fri 18 Mar               Penrith                    Leisure Centre
Sat 19 Mar              Edinburgh                Bongo Club
Sun 20 Mar             Glasgow                  King Tuts
Tue 22 Mar             Bury St Edmonds    Apex
Wed 23 Mar            Birmingham            Academy 2
Thu 24 Mar             Manchester             Academy 3
Fri 25 Mar               London                    Relentless Garage
Sun 27 Mar             Liverpool 02            Academy
Mon 28 Mar            Stoke                       Sugarmill
Tue 29 Mar             Wakefield               Black Flag
Wed 30 Mar            Durham                   Live Lounge
Fri 01 Apr                Poole                       Chords
Sat 02 Apr               Saltash                    Livewire
Sun 03 Apr              Wycombe                Academy
Mon 05 Apr             Brighton                  Concorde 2
Tue 06 Apr              Coventry                  Kasbah
Thu 07 Apr              Gloucester              Guildhall
Fri 08 Apr                Wimbledon             Merton Manor Club