Crystal Stilts 'Through the floor' March 28th
aaamusic | On 28, Feb 2011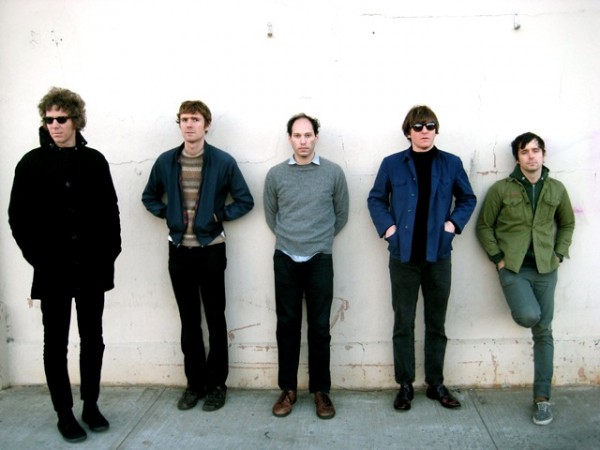 Quite simply, Alight Of Night is one of the most breathtaking records these ears have been partial to in a long while, and even if Crystal Stilts never make another record, their legacy is assured – Drowned In Sound
Weirdly life-affirming and very fun, Crystal Stilts are moody-sounding fuckers who make fabulous stripped-down, C86-like garage-pop- Pitchfork
Through The Floor is the second single to be released from the hotly anticipated second album In Love With Oblivion by Crystal Stilts. Turning their signature fuzzy moodiness into a swaggeringly melodic 50s pop number, they still deftly blend shades of light and dark but fill the spaces in between with vibrant sonic colour.
Crystal Stilts burst out of Brooklyn's storied post-punk indie scene in 2008 with a string of releases that culminated in their fantastic debut album Alight Of Night. Deftly combining the spooked 60s Texas psych of 13th Floor Elevators and Red Crayola, the gothic blues/punk howl of Gun Club, the dark, experimental DIYism of early Flying Nun/Xpressway groups and a dash of classic 60s pop by way of early Jesus & Mary Chain, Alight Of Night won universal accolades including an 8.1 review from Pitchfork and placings in Best Album Of The Year charts from everyone from NME to Rough Trade.
Established as first-class purveyors of haunting, atmospheric post-punk pop, Spring 2009 saw them follow-up with the excellent 7″ single of Love Is A Wave, before touring the US and Europe, starring at Primavera festival, and releasing Alight Of Night in the UK to yet more acclaim. All the while they were writing new tunes, experimenting with new sounds and planning their next moves. October 2010 saw the release of the fabulous slice of psych-rock Shake The Shackles, the first single from their upcoming second album In Love With Oblivion and one of Drowned In Sound's Top 50 singles of the year.
Through The Floor is the second single from In Love With Oblivion and continues the band's remarkable run of quality releases. Taking a more conventionally "pop" tack than Shake The Shackles, Through The Floor is a two-and-a-half minute thrill ride reminiscent of late Velvet Underground or early Creation label singles and a breathtaking taste of their imminent new full-length.