Poly Styrene- Generation Indigo album
aaamusic | On 28, Feb 2011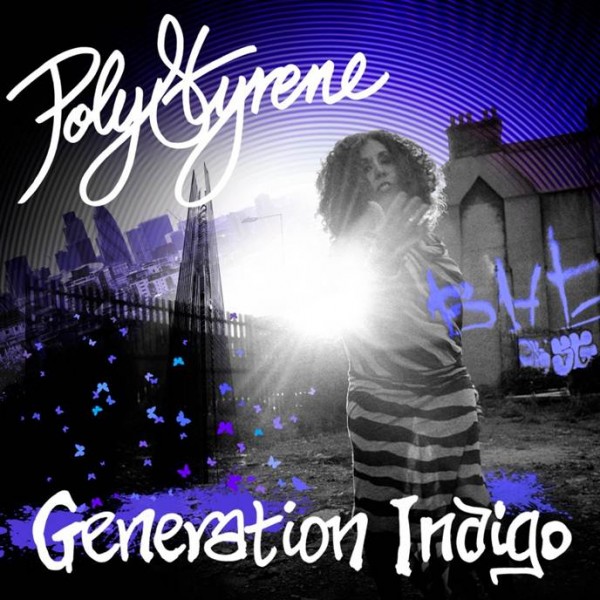 "At last! The X-ray Spex siren returns" Uncut
"Poly Styrene, leader of punk outsiders X-ray Spex, was the original riot Grrrl, inspiring a legion of female singers" Guardian Guide
"Poly, DayGlo heroine of playfully serious punk and icon to Beth Ditto among many others, makes an unexpected festive return" NME
"'Generation Indigo' is her most commercial record yet but remains spiritually, socially, and environmentally concerned" Mojo
Tracklisting: 1. I Luv Ur Sneakers 2. Virtual Boyfriend, 3. Generation Indigo, 4. Kitsch, 5. White Gold, 6. L.U.V., 7. Ghoulish, 8. Code Pink Dub, 9. Colour Blind, 10. Thrash City, 11. No Rockefeller, 12. Electric Blue Monsoon
At the end of 2010, Poly Styrene, the unforgettable frontwoman and iconic face of the seminal band X-ray Spex announced her return to the music scene with a free download of alternative festive anthem 'Black Christmas'.
Acting as a taster of Poly Styrene's new material, the forthcoming album 'Generation Indigo' is due on March 28th through Future Noise Music and was produced by Youth (The Verve, Killing Joke, The Fireman, Edwyn Collins).
X-ray Spex may have only been around for a couple of years but their star shone brightly. Poly Styrene's return is highly anticipated, she remains a genuine icon and one of the premier influences on the Riot Grrrl and Britpop scenes. Currently, a new set of young American bands like the Yeah Yeahs Yeahs and The Gossip and countless others recognise her fiery, irrepressible presence. With her great self-styled image, brilliantly sharp lyrics and powerful presence, Poly's indomitable spirit still inspires.
After reforming the band for a one off show at The Roundhouse, Camden in 2008, Poly was persuaded to start writing a solo album. Armed with a record's worth of songs, Poly met Youth who added his own epic style to the tracks.
The resulting LP kicks off with the mighty, power-pop of 'I Luv Ur Sneakers', and maintains the quick pace with forthcoming single 'Virtual Boyfriend' – out March 14th – before then moving into dubstep territories on the title track 'Generation Indigo'. The album takes in everything from neo-X-ray Spex punk rock on 'Thrash City' and 'L.U.V' to the Trojan-reggae infused grooves of 'No Rockefeller', 'Code Pink Dub' and 'Colour Blind' whilst one of the stand out songs, 'White Gold' attests to the power of Poly's soaring vocals.
The forward looking 'Generation Indigo' showcases Poly's humorous musings on pop culture, the internet and fashion whilst also tackling heavier subject matter (war and racism) with her politically aware and intelligent lyrics.
'Generation Indigo' is a fantastic return to form for Poly and a welcome comeback for her fans. With her never-failing ability to connect with her audience regardless of the year and their age, Poly Styrene's remarkable voice sounds as vibrant and innocent as ever.