Wye Oak acoustic. Album out next Monday
aaamusic | On 28, Feb 2011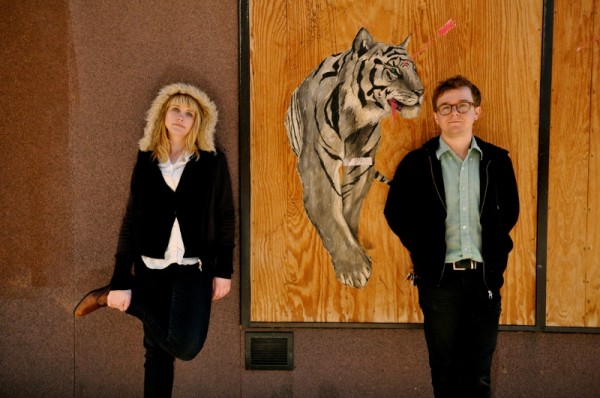 "Beautifully desolate alt-rock that broods, builds and breaks into a storm of squalling guitars. 4/5"– Q
"Sultry as Mazzy Star & dreamy as Slowdive, Wye Oak have raised their game with this third LP, awash with harmonies and folk-shoegaze textures. 4/5"– Uncut
"Ten tracks bristling with invention but concrete enough to be enjoyed for what they are; great songs… Like waking from a dream of MBV's Loveless to find words that can be heard and feelings that can be identified."– Notion
So after last week's tour with Cold War Kids, a hugely successful first ever London headline show on Tuesday, their 6music session on Thursday and glowing album reviews coming in thick and fast, Wye Oak are preparing to release their new album 'Civilian' next Monday March 7th on City Slang.
Ahead of it's release an acoustic video of the title track, recorded in Germany during their European tour, can now be seen online here
On signing Wye Oak, City Slang said "This band has been on and off our radar for quite a bit now. Their last releases did resonate around this here office somewhat, but nothing prepared us for the sheer musical brilliance, the quantum leap that the duo of Jenn Wasner and Andy Stack would offer up with this new album of theirs. They have really come out of their shell on Civilian."
Wye Oak wrote what became Civilian between December of 2009 and July of 2010.  The songs "are, as a whole, about aloneness (the positive kind), loneliness (the horrible kind), moving on, and letting go (of people, places, and things)," lyricist/guitarist Jenn Wasner reveals.
After recording and mixing the previous two albums themselves, Wye Oak brought in mixing engineer John Congleton (St. Vincent, Shearwater), who played a pivotal role in the sound of Civilian. "JC definitely pushed us into some exciting and sometimes scary new territory," multi-instrumentalist Andy Stack says. "It was the most that Jenn and I had ever relinquished control of our music to someone else, but it gave us a chance to step back and see the big picture, whereas on previous recordings we got embroiled in the technical details."
Civilian is a kind of 21st-century folk music, imbued with dense shoegaze guitars, nearly melodic rhythms, and impeccable splashes of electronic colour. Without leaning on conventional structure, the songs beguile with fascinating chords and melodies, Jenn's voice and riveting lyrics, mesmerizing rhythms, and an intoxicating aural landscape. Just as good writing has meaning between the lines, Civilian has meaning between the sounds: the combinations of harmonies, timbres, and words summon vivid and ineffable associations just beyond reach.
Jenn sums up the meaning of the album saying, "this collection of songs is called Civilian because I believe everyone wants to be normal, but no one truly is."
Wye Oak will be returning to the UK after their current US tour with Lower Dens.