Magic Bullets unveil self-titled sophomore album released through Mon Amie Records on March 21st
aaamusic | On 02, Mar 2011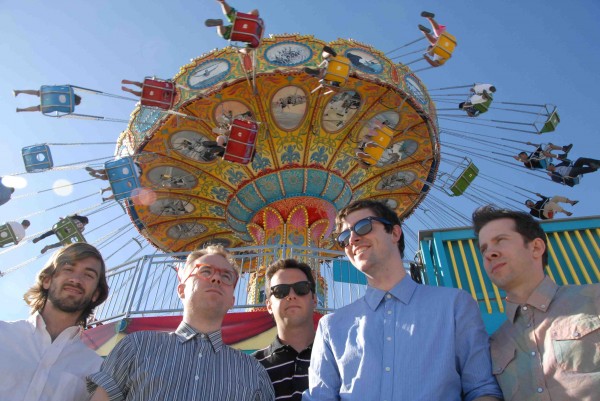 Channeling the spirit of early Orange Juice with twist of The Style Council and the swagger of The Smiths,  San Francisco's Magic Bullets envisage an era indebted to sardonic crooners yet craft the most joyous guitar pop you'll hear this year,  or any year for that matter.
Magic Bullets are a five piece hailing from San Francisco, CA, who have lost more drummers than Spinal Tap, not to mention a few founding members. Their new self-titled album is the result of a band that have seen their ups and downs and ended up the better for it. They wear their influences on their sleeve ("everything from Wedding Present to Chic to Schubert"), yet sound wholeheartedly present in the west coast music scene. Dreamy and melancholic, with a funky bass line,  the likes of lead single 'Lying Around',  released March 14,  and 'Sigh The Day Away' are just two examples of Magic Bullets nailing the bittersweet pop aesthetic.
The band previously released A Child But In Life, Yet A Doctor In Love on Words on Music and a self-released EP before signing with upstart Brooklyn label Mon Amie Records.  Mon Amie is a one-lady operation out of a tiny Greenpoint living room who spends her sleepless nights helping deserving bands reach deserving ears.  None could be more deserving than the glorious Magic Bullets,  Having wowed at CMJ last year and been praised by the heady likes of Pitchfork,  Brooklyn Vegan and Spin it is high time the band ventured to UK shores to win over the hearts of a nation who so revere the sound Magic Bullets effortlessly channel.
Magic Bullets' new album will be available in the UK and Europe on March 21, preceded by the 7" single "Lying Around" which will be released on March 14.
TRACKLISTING:
1. A Day Not So Far Off
2. They Wrote A Song About You
3. Pretend And Descend (focus track)
4. Lying Around (focus track)
5. Can You Believe That's Us?
6. Red Room
7. On Top Of The World
8. A Name Sits Heaviest On My Heart
9. Millions Of People Running In Circles
10. I Can't Make Myself Forget
11. Sigh The Day Away
See what the US press has to say about Magic Bullets:
"The band's debut album on Mon Amie Records, recalls the early '80s days of Orange Juice, Aztec Camera, Haircut 100 and The Style Council, with a little C-86 in there as well. (That's basically the formula to get me to come see your band. Well, one of them.) In addition to drawing from a bunch of influences dear to me, they write some fantastically catchy songs." Brooklyn Vegan
"The band's gleeful, eighties-inspired sound plays like Adderall for the ears." – New York magazine
"Classic sounds and structures that feel balmy, wide-eyed, and genuine." – Pitchfork
"If you like your rock n' roll sex delivered with a cardigan and James Brown records, then you'll love Magic Bullets." – Alan McGee, Too Cool To Die
"Powerful precision and impressive musicianship" – Spin.com
"A guns-blazing assault aimed at having a good time" – San Francisco Chronicle
"Guitarist Corey Cunningham's brittle, swooning riffs suggest Johnny Marr, while singer Philip Benson's Sphinxian lyrics come in bursts of poetic beauty" – Amplifier
Magic Bullets opted to self-release their second recording, a four song 12″ titled "Magic Bullets Lives For Romance".  "Lives for Romance" saw a dramatic maturation of the band's sound from "A Child…" and despite various lineup changes, shining reviews for the EP  encouraged the band to continue writing songs for a second album.
2011's Magic Bullets (Mon Amie Records) exposes the band for what they are: a seasoned group who's seen its ups and downs and yet somehow ends up the better for it.