Chibuku – The Birthday – Sat 5th March @ The Masque, Seel Street, Liverpool
aaamusic | On 04, Mar 2011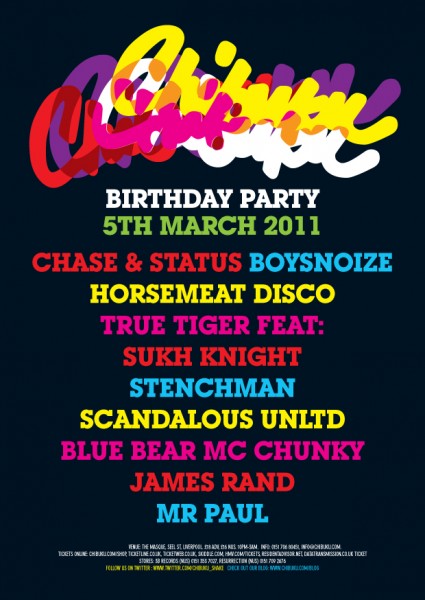 So – what goes around comes around, and once more the Chibuku birthday looms large. The last twelve months have flown by, and in 2011 the iconic, eclectic and inspirational party is back at its spiritual home, The Masque, for a session of considerable importance. For a club so young at heart and where evolving longevity is the key, Buku has got something so precious you might just want to bottle it and stash it away someplace safe. A riotous mix of genres and styles, of young and old, of forward-thinking and old-skool vibes combine to create one of the defining clubs of the last decade in the UK, which continues to set a remarkable precedence.
Rich McGinnis, Chibuku's director, explains that, "We've come a long way here at the club. I always say this, but it's forever been about the people who make Chibuku what it is. We have got a great and really loyal crowd and they help the city rock each time we are on. There's a real thirst for what we do and it's great being able to book people that not everyone's heard of, for example at the birthday we're bringing back the True Tiger boys who are really starting to take off. It's important to support the scene. We can't wait for the birthday – it's always a memorable session, and being back at The Masque feels really right."
For the Birthday everything is a bit special – and in The Theatre, it doesn't come much bigger than Chase and Status. Arguably the UK's biggest crossover dance act bar none, they have assailed the charts, working with a who's who roll call of global stars alongside their own stadium-rocking live and DJ sets. Their birth in drum and bass has evolved to a wider-ranging stylistic template, which sees them revered as both champions elect and champions for everything that's great in music, with sold out shows everywhere they play. Support comes from London underground imprint True Tiger, helmed by dubstep's avante garde Stenchman with support from grime's lyrical rapper MC P Money. East London's Sukh Knight brings his warped drum and bass, dubstep and grime to Liverpool, and the label's youngest star, the Enter Shikari remixing Bluebear and Scandalous Unlt, also star.
Up in The Loft, it's all about the 4-4. Alex Ridha, as his passport reveals Boys Noize to be, is just as prominent. Coming off the strength of that Bloc Party remix in 2005, since then he has started his own label, smashed a Bugged Out compilation out, a Mixmag cover mix and become an international star of electro and techno, remixing everyone from NERD to Depeche Mode. Local hero James Rand gets to start proceedings for a heads down and arms up rave of the highest order.
Over in Ink, a space which itself has become legendary in the last few months, there's a delectable dip into disco's finer cuts from London-based Horsemeat Disco's revivalist genius. Whilst the Italo, US and Euro deep sounds have bounced back and forth over the country for some time, it's only a very few who truly know how to harness their worth: witness the success of Tensnake, Greg Wilson and Soulclap for examples of how it's done. Yet HMD combine a racier edge, with thrilling crate digging to unearth true aural gems which are beyond compare. Their recent mix releases have been the epitome of 4-4 deepness; playing Chibuku for the first time, and at the birthday too, caps off this epic session. Liverpool's other young star, Mr Paul, will be warming Ink up nicely.
The Full Line-up
Chibuku – The Birthday
Saturday March 5th
@ The Masque, 90 Seel Street, Liverpool, L1 4BH
Theatre
Chase and Status (DJ set)
True Tiger feat:
Sukh Knight
Stenchman
Scandalous Unltd
Blue Bear
MC Chunky
Loft
Boyznoise
James Rand
Ink
Horse Meat Disco
Mr Paul
£15 / £13
10pm – 3am
Info – 0151 706 8045
Tickets:
www.chibuku.com/shop
www.datatransmission.co.uk/chibuku
www.skiddle.com
TicketWeb: 08444 771 000
Ticketline: 0161 832 1111
3B records: 0151 353 7027