Rocketeer: "The Cowardly Soldier's Lament" released March 14th 2011
aaamusic | On 04, Mar 2011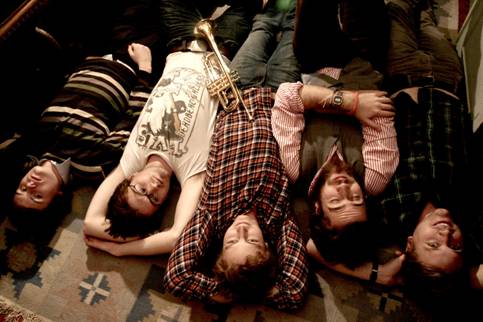 "The song bespeaks Rocketeer's taste for the theatrical. The haunting keyboard and swashbuckling rhythms are perfectly offset by the dark, lilting lullaby of the lyrics."
Altsounds.com
"Rocketeer were a revelation."
Western Gazette
Rocketeer are set to release their new single The Cowardly Soldier's Lament, an epic sounding track which will be available on the 14th March 2011 along with accompanied by b-side single Troubadours.
Rocketeer are Felix Hagan (vocals), brothers Hugh and Benny Carter (rhythm guitar & Drums), Francis Bevan (lead guitar, vocals) and Tom Heaven on (keyboards, trumpet, vocals). All members hail from the south west (Somerset) bar one, Felix, originally from Hampshire via Liverpool.  Hugh, Benny and Francis are part of a huge musical family with relations ranging from opera singers to rap producers.  All five members of the band are classically trained and this is reflected in their arrangements and intelligent use of harmony and structure. Their live shows are a real spectacle of infectious songs with professional musicianship – a total must-see.
The band formed in 2007 and began a rigorous campaign of gigging, cramming themselves onto countless stages of venues, town halls, festivals and pubs throughout the country including an acclaimed performance on the John Peel stage at Glastonbury Festival. With continuous recording of new material, the band managed to produce and fine-tune their distinctive sound, and in the process gained themselves hordes of delighted fans.
The band is set to release a series of singles throughout 2011, with an album to follow towards the end of the year. First of these is the exceptional The Cowardly Soldier's Lament, based on an extract from a musical that Felix is currently writing, is a story of a soldier abandoning his family at a time of war. With a big chorus, catchy riffs with Felix's amazing vocal range and delivery, the single is set for big things. Released on 14th March 2011 the track will be available to buy in digital, physical and limited edition formats.
For music and live date info please visit: