Battles, Caribou & Les Savy Fav to curate ATP Nightmare Before Christmas Festival – On Sale Thursday
aaamusic | On 05, Mar 2011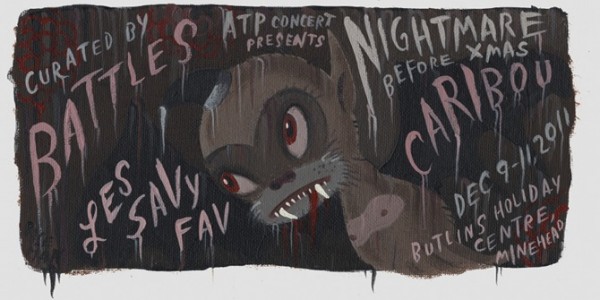 All Tomorrow's Parties announce our second festival for December 2011…
Nightmare Before Christmas
curated by Battles, Caribou & Les Savy Fav
9th-11th December 2011 at Butlins Holiday Centre, Minehead, UK
On Sale Thursday 3rd March at 5pm via www.atpfestival.com
ATP Concerts are very excited to present a second festival weekend for December 2011 at Butlins, Minehead. This year the Nightmare Before Christmas will be curated by three of the most stunning live acts on the planet – Battles, Caribou and Les Savy Fav! Each of these groups are renowned for their live performances as well as their acclaimed recorded material and we take great pleasure in bringing them together for what will no doubt be an amazing line-up of live music. Each band will headline and choose a line-up of 14 artists for one day of the festival –
Les Savy Fav on 9th December
Battles on 10th December
Caribou on 11th December
In total the line-up will feature 45 live acts playing across the weekend on three indoor stages with a total festival capacity of around 5500 people. The event also includes DJs, Cinema and much more – we will start to announce the bands chosen by each of our curators in the coming weeks and months leading up to the event. All tickets include accommodation in private apartments for you and your friends.
Tickets for Nightmare Before Christmas curated by Battles, Caribou & Les Savy Fav are priced at £170.00pp for room only and £180.00pp for self catering and go on sale this Thursday 3rd March at 5pm via www.atpfestival.com
£20 and £10 off per person Early Bird tickets are available for a limited time, see below for details…
As recently announced our first ATP Festival weekend running 2nd-4th December 2011 at the same location is on sale now via www.atpfestival.com. This event is curated by Jeff Mangum of Neutral Milk Hotel and so far the line-up includes the likes of Superchunk, The Olivia Tremor Control, The Raincoats, The Magic Band and Young Marble Giants. There are a limited amount of £10 off per person chalets left for this event – this offer expires at 9am this Friday.
An In Between Days event running between the two December festivals will be announced in the coming weeks with discounts available for those attending both weekends and those who book early.
EARLY BIRD SPECIALS + GENERAL ON SALE
We are offering a small amount of early bird tickets at a £20 per person discount (£150pp room only and £160pp self catering). These will be available until Thursday 10th March (unless they run out first). Also available will be a batch of early bird tickets at a £10 per person discount (early bird £160pp room only, £170pp self catering). These will be available until the following Thursday 17th March (unless they run out first).
INSTALMENT TICKETS
ATP will again be running a deposit scheme for the festivals to make it easier for some people to pay. We are offering a limited number of 4 berth apartments, both room-only and self-catering to be paid for with a deposit upfront, and the remaining amount to be paid by the end of August. Both come with a booking fee of £7.50 per person (£30 per apartment). These apartments will be sold at full price; £170 per person room only or £180 per person self catered.
People who would like to hold a 4 berth room only, must pay a deposit of £70 per person, (£280 for the apartment). The remaining £107.50pp each (£430 for the apartment) must be paid by August 31st.
People who would like to hold a 4 berth self catering, must pay a deposit of £80 per person, (£320 for the apartment). The remaining £107.50pp each (£430 for the apartment) must be paid by August 31st .
As we will be holding the apartments for you, all deposits will be non-refundable, so please only apply if you are sure you can pay the remaining amount when it is due in August. If you are able to pay through a normal ticket agency upfront for your whole apartment, then please do so and leave the deposit scheme for those people who find it harder to get the full amount together in one go.
You will be required to pay both instalments by either Paypal or cheque. Please email deposit(at)atpfestival.com with NIGHTMARE DEPOSIT in the email subject line if you would like to take part in the deposit scheme. Please include: your name, address, which type of room you want (room only or self catering) and which payment method you would like to use (paypal or cheque). You will then be given details of how to pay by your chosen method. Chalets will be granted on a first come first served basis so please try to pay quickly once we have given you the details so that you don't miss out (therefore we recommend Paypal over Cheque).
ABOUT THE VENUE
Butlins, Minehead looks out across a superb sandy beach. The site is equipped with a supermarket, newsagent, cash points and restaurants. Onsite facilities include a cinema, Splash Water World – a sub-tropical environment that has a huge wave pool, a swimming pool, 3 flumes and also a flume based raft ride – Ten-pin bowling and amusement arcade. Sports include Archery, Football, Basketball, Darts, Petanque, Fencing, Kwik Cricket, Netball, Rounders, Table Tennis, Outdoor Bowls and Crazy Golf.
Under 18s, children and babies are welcome at ATP, please see the FAQ section of our website for more details.
Room Only accommodation is available in 2, 3, 4, 5 and 6 berths and offers either double, single or bunk beds with private bathroom and TV, but no kitchen facilities or lounge, more like a hotel room. (£170 + booking fee per ticket per person)
Self Catering accommodation is available in 4, 6 and 7 berths and offers private bathroom, full kitchen facilities and separate lounge area with TV. (£180 + booking fee per ticket per person)
ABOUT ALL TOMORROW'S PARTIES
All Tomorrow's Parties has been promoting festivals and concerts throughout the world for the last ten years. It was founded in the wake of Belle and Sebastian's Bowlie Weekender, with Mogwai curating in the unusual setting of Pontins Holiday Camp, Camber Sands. Since then the festival has appeared every year and has expanded across the globe continuing to set itself apart from large scale corporate festivals by staying intimate and fan-friendly. The line-ups are chosen by significant bands or artists which results in eclectic events that combine performances by legendary and influential acts with appearances by the latest crop of experimental artists from any (and every) musical genre. The festival has become more successful with every passing year, and ATP events have taken place in the UK, USA, Europe and Australia, with past curators including Nick Cave & The Bad Seeds, Mike Patton, My Bloody Valentine, Portishead, Sonic Youth, Slint, and Tortoise. This year ATP launches a new series of curated city-based events called I'll Be Your Mirror, starting in Tokyo in February, London in July and most recently announced in Asbury Park, New Jersey.
For ten years ATP has set itself apart from other festivals by embracing seemingly disparate artistic genres, with events featuring art exhibitions, cinema programmes, spoken word performances and stand up comedy. It's been called 'Unforgettable' by Spin and 'the most enjoyable festival experience of our reporter's life' by Pitchfork. It has spawned an acclaimed concert series (Don't Look Back), a record label (ATP Recordings), and the release of a feature length documentary about the festivals from Warp X, titled All Tomorrow's Parties, out now on DVD. For more information and the trailer visit www.ourtrueintent.com