Blancmange – Blank Burn
aaamusic | On 07, Mar 2011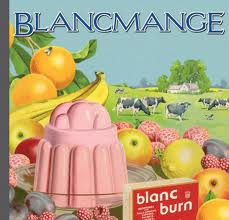 Having spent 23 years in the musical wilderness; the release of 'Blank burn' comes as nothing less than an intriguing surprise.  The fact that it has become so eagerly anticipated is a further incredulity, but with the likes of La Roux shamelessly plagiarising their sound, it was perhaps inevitable the duo would return, 'Blanc Burn' being their first album in 23 years.
Blancmange split in 1984, leaving a trail of mediocre, insecure albums, however they are yet to garner the critical credit that their work nonetheless requires.
With its blend of analogue synths and Indian percussion, 'Blanc Burn' is business as usual for the duo, with Stephen Luscombe creating rich electronic tapestries over which singer Neil Arthur 'Frank Skinners' fables of daily life and their stranger than fiction messages.
Despite said superficial quotidianity there is still a lot of fun to be had herein and although it could do with a few lyrical paint jobs 'Blank burn' is a pleasingly accomplished comeback that is worthy of critical acclaim though the champagne shouldn't be cracked open just yet.
With the album primed for its drop into the charts on March 7th this duo will just have to wait and see how their revamped 80's fare fares in the new millennium.
Author: Guy Waddington