DIGNAN PORCH 'Deluded' EP released today on Captured Tracks, new live dates for April announced
aaamusic | On 08, Mar 2011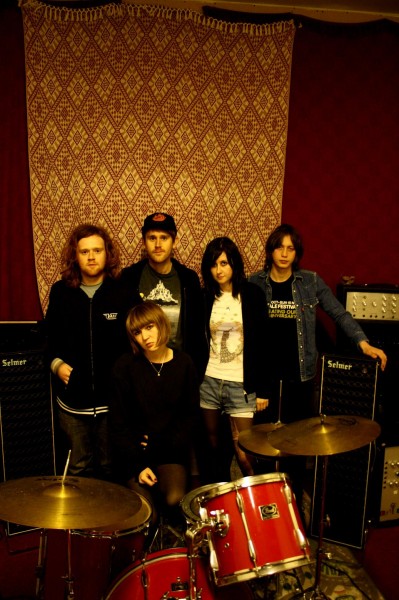 From Tooting, South West London, Dignan Porch started as the home recording project of Joe Walsh, who pretty much as soon as he created a Myspace account, got asked by revered NY label Captured Tracks to put out a single. This became the ninety second slacker-psyche- pop mini anthem 'On a Ride', which also featured on Merok Records 'Dont Die Wondering' compilation. The single was followed swiftly by the release of their home made LP 'Tendrils', also on Captured Tracks. In July they released new track Surge on a now sold out 4 way split 7″ with Colours, Cheatahs and Not Cool. These releases garnered acclaim from the likes of Pitchfork, Vice, Rough Trade and many more.
Debuting their live set-up at Nail The Cross festival early last year, the now 5-piece Dignan have gigged with the likes of Tickley Feather, The Intelligence, Lovvers, Lets Wrestle and Veronica Falls, playing In the City and Land of Kings festivals and ending 2010 with a couple of dates with Blank Dogs, and shows with Smith Westerns and Ty Segall.
For their new EP 'Deluded' Dignan have stepped into a studio with the full band, plus Henry Withers from Lovvers / Human Hair working the desk. Four tracks (Yards, Stream, Like it Was Again and Footsteps in Snow) recorded in the studio and 4 tracks were again home-recorded by Joe, on his Tascam 8 Track, though having now honed his skills somewhat, the tracks sound brighter and less fuzz-swamped than the early stuff.
Dignan Porch are Joe Walsh on guitar and vocals, younger brother Sam Walsh on lead guitar, Hayley Akins on Keyboard and vocals, Ben Goodwin on bass and Philippa Bloomfield on drums.
"Dignan Porch are several matches made in heaven. all the way from exotic tooting, the group touch down into the effects-heavy shoegaze/dream pop world with some lovely vocals and harmonics but they really fly when they unashamedly let loose on the slacker guitar-hero stuff. Bursting with coolness and melodies to kill or die for." – Rough Trade
Tracklisting
1. Flame (Intro)
2. Yards
3. Like It Was Again
4. Stream
5. I'm A Saint
6. I Threw Myself From Tower Bridge
7. Footsteps in the Snow
8. Surge
Live dates:
MARCH:
21 BRIGHTON, The Hope w/The Babies
APRIL:
25 NORWICH, Fuzz @ Project Norwich w/Times New Viking
27 MANCHESTER, Deaf Institute w/Times New Viking
28  YORK, The Duchess w/Times New Viking
29 WREXHAM, Rope @ Central Station w/Times New Viking