QUEEN: first five albums re-issued on Island Records – March 14th 2011
aaamusic | On 08, Mar 2011
Queen release the album 'Deep Cuts Volume One 1973-1976'on March 14th 2011, a bespoke collection of hidden gems from the band's first five albums, specially chosen by Roger Taylor and Brian May in consultation with life-long fan, Taylor Hawkins from the Foo Fighters.
'Deep Cuts Volume One' is designed as a companion piece to the first five Queen albums which are being re-issued by Island Records on March 14th as part of the bands 40th anniversary celebrations.
Designed to dig a little deeper than their multi-million selling 'Greatest Hits' compilations ('Greatest Hits', by the way, is officially the biggest selling British album of all time with sales of an incredible 5.7 million copies so far in the UK alone), 'Deep Cuts Volume One 1973-1976' showcases a less well-known side of the early Queen story and reveals some brilliant tracks to listeners looking to delve into the band's founding years' work for the first time.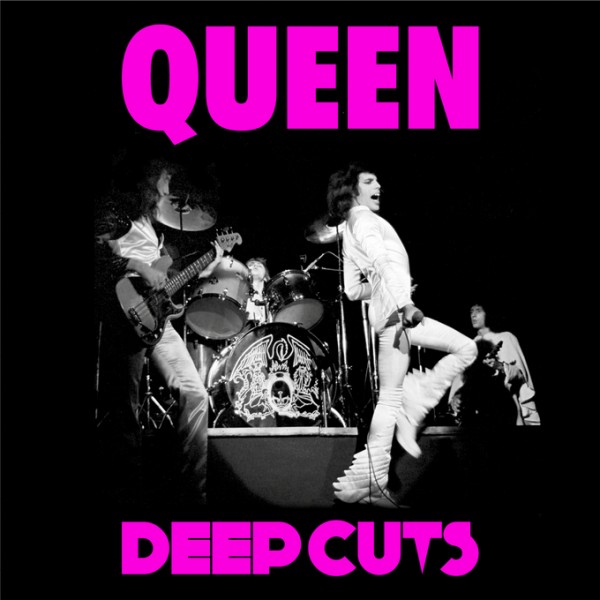 "We aimed for the top slot and we were not going to be satisfied with anything less." Freddie Mercury
March 2011 sees the re-release of Queens first five albums – one of the most exciting and influential back catalogues of all time.  Recorded in the maelstrom of the early 1970's London music scene Queen created a groundbreaking and unique soundtrack that remains globally influential today. Theatrical, imaginative, diverse, melodic and unpredictable they had a sound and a look all of their own. Sitting alongside their contemporaries like Led Zep and David Bowie, Queen set the standard for British rock in the 1970's and became one of the most thrilling, glamorous and downright rock n roll bands of all time, directly influencing a contemporary roll call of artists from Foo Fighters & Axl Rose to Lady Gaga and Katy Perry.
"Queen", "Queen II", "Sheer Heart Attack", "A Night At The Opera" and "A Day At The Races" have been specially re-mastered and each will be released as a standard CD as well as a deluxe 2 disc set which will feature new bonus content.  Each deluxe album will be released on iTunes featuring bonus tracks plus additional sleeve notes, unseen pictures and videos. The albums also set the scene for their bands forthcoming Stormtroopers In Stilettos Global exhibition that launches in London on 25th February.
From the pure raw rock of "Queen" through to the majestic anthems on "A Day At The Races", the first five albums highlight the diverse talent, musical ambition and already global success of a band made up of some of the best songwriters, musicians and performers of all time.
'Queen', recently nominated by Dave Grohl as his favourite album of all time, was recorded in the same studio that David Bowie was recording Ziggy Stardust. Because they didn't have any money, the album was recorded on Bowies downtime, so Queen were literally recording at 3AM after Bowie had gone to bed. 'Queen' is their heaviest album, influenced by The Who, Hendrix and Led Zep and contains some of their hardest rocking songs, and also some of their most imaginative. Like all subsequent Queen albums, no two songs sound the same and there are mixtures of light and shade, the band teasing one minute with a lullaby, then blowing your head off.
'Queen II' is the real beginning of Queen as we know it. It's the first time we hear the multi layered overdubs, the harmonies, the varied musical styles (ballads, folk, blues, thrash metal, pop and rock, it's all there). It also includes their first hit single 'Seven Seas of Rhye', which led to the first of many iconic performances on Top of the Pops. The band recorded 'Queen II' in just over a month in 1973 ahead of its release in 1974. The album cover was shot by legendary photographer Mick Rock and inspired by a Marlene Dietrich portrait. The image was later brought to life in the revolutionary Bohemian Rhapsody video.
'Sheer Heart Attack', Roger Taylor's favourite Queen album, was released in 1974 and reached Number 2 in the UK. Prior to this Queen were mostly considered a heavy rock band, but this album experimented with a variety of musical genres, including music hall, heavy metal, ballads and ragtime. At this point Queen started to move away from the progressive tendencies of their first two releases into a more radio-friendly, song-orientated style, illustrated by 'Killer Queen', which was their biggest hit at that point reaching No 2 in the UK. It also went to No 12 in the US Billboard Charts, the first of many hits there. A song about a high-class call girl, it contains the guitar solo that Brian May is most proud of and won Freddie his first Ivor Novello Award.
'A Night at The Opera', named after the Marx Bros film, is widely acclaimed as one of the greatest albums of all time. Exceptional on every level, musically, lyrically and artistically, Queen took the strongest elements of their previous two albums to make the ultimate winning combination. The  most expensive album ever recorded at that time, it delivered rock, opera, heavy metal, romance, ballads, pop, sci-fi folk, music hall, 'trad jazz' and even the National Anthem. The album contains perhaps the most famous rock song of all time, 'Bohemian Rhapsody' which went on to spend fourteen weeks and number one, be voted Song of the Millennium, become the only song in history to reach Xmas No 1 twice and sell a million copies on two separate occasions. Queen also recorded the first official pop promo for 'Bohemian Rhapsody' as they were on tour and could not appear on Top of The Pops and this video paved the way for MTV and VH1.
By 1976, Queen were back in the studio recording 'A Day At The Races', which was written and recorded by Queen at their happiest, riding on the crest of a wave and loving every second. The album is an infectiously jubilant piece of music full of love, optimism and good old fashioned rock and roll.  Like 'A Night at the Opera' it again borrowed the name of a Marx Bros movie, and its cover was similar to that of 'A Night at the Opera', a variation on the same Queen Crest. It reached number one on the British charts and features the classics 'Tie Your Mother Down', Freddie Mercury's personal favourite composition 'Somebody To Love' and 'Good Old-Fashioned Lover Boy'