Circus Presents Planet E – Sat 19th March with Carl Craig, Luciano, Yousef, Dennis Ferrer and Heidi – Liverpool
aaamusic | On 10, Mar 2011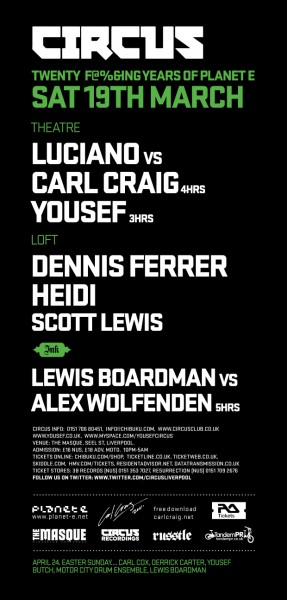 Easily dance music's biggest news in the dawn of 2011 is the twenty year anniversary of Carl Craig's sterling Planet E imprint, and the revered the Detroit label is taking itself on a world tour to celebrate. Yousef's Circus is one of the chosen few selected to mark 240 months of amazing music, with Luciano joining Craig for a scintillating four hour back to back set in The Theatre.
Elsewhere the action doesn't relent, the Loft bolstered by Dennis Ferrer's debut alongside a returning Heidi, whilst residents Lewis Boardman and Alex Wolfenden tussle all night long in Ink.
Planet E, like its founder, has been about unearthing exciting and forward thinking music for two decades, the outlet for seminal aliases of Carl's such as Bugz in the Bassbin and Paperclip People alongside luminaries such as Blake Baxter, Kevin Saunderson, Vince Watson and Lazy Fat People. Alongside a compilation to celebrate the imprint's output, victoriously dubbed '20 F@#&ING YEARS – WE AIN'T DEAD YET!' and featuring new music from Recloose, Martin Buttrich, Kenny Larkin and Basic Channel, Carl has gone on tour with a selection of the hottest artists in modern dance. Among them are Ricardo Villalobos, Dubfire, Sven Vath, Richie Hawtin, Loco Dice, Seth Troxler, Paul Woolford, Radio Slave, Chris Liebing and the man for this show, Luciano.
A consistent star of Circus' metamorphosis over the past few years as the UK's tastemakers du jour of house and techno programming, Luciano is quite simply one of the masters of the genre. His widely celebrated ambiguous nationality (part Swiss, part Chilean) gives an indication of the melting pot of influences to his sound, with the clinical edge of European techno married to the unpredictable rhythms of South America.  Last summer he proved his mettle by injecting Pacha's Ibiza centrepiece with an underground swagger once again, his Sunday party Vagabundos one of the hits of the season. His four hours alongside Carl will be a breathtaking musical amalgamation, as two giants of the industry showcase their outstanding talents.
Joining the pair in the Theatre is Yousef, Circus' founder and resident DJ who likewise has run headlong into 2011 with an ever-increasing momentum. His year is already shaping up to be his biggest yet, with a fresh season in Ibiza looming, the release of his second artist album, and Yousef's secret weapon and dance floor destroyer, "The Curiosity Show" has just dropped on seminal German techno label "Harthouse." There's a new single signed to uber-cool house label Monique Musique too, "Gotta Be Me And You," which comes with DJ Sneak and Gary Beck remixes and is set to drop at this year's Miami WMC events in March.
Making his Circus debut, Ferrer will bring his ebullient take on soul infused house and techno to Liverpool for the first time. The master of blending main room grooves with deeper vibes, Ferrer is one of the best at balancing the underground with more accessible tunes, an expert in segueing from modern anthems to rare disco and old school garage in an instant.
Phonica starlet Heidi also swaggers down after a superlative debut last February, counting ownership of one of the world's most well respected vinyl emporiums, Phonica, among her many talents. Residencies at Monza and Watergate showcase her peerless continental standing, and having access to the best beats going has certainly helped establish her as an extremely musically flexible artist.
The final component sees a musical duel between the two backroom wizards of Circus, Lewis Boardman and Alex Wolfenden. Lewis' perfectly pitched warm-ups are the stuff of legend, but recently he's been creating a name for himself locally with his eclectic mayhem in leading Liverpool boozer the Shipping Forecast. Cafe Mambo resident Wolfenden will be stepping up to spar with Boardman's esteemed qualities, for what will be a wide-ranging assault through the annals of dance music's history.
Circus
Saturday 19th March
@ The Masque, 90 Seel Street, Liverpool, L1 4BH
Planet E Tour
Theatre
Luciano v Carl Craig (4 hour set)
Yousef (3 hour set)
Loft
Dennis Ferrer
Heidi
Scott Lewis
Ink
Lewis Boardman  v Alex Wolfenden (5hr set)
10pm – 4am
Price £15 / £17
Info – 0151 706 8045
www.circusclub.co.uk
Tickets:
www.chibuku.com/shop
www.skiddle.com
www.datatransmission.co.uk/circus
TicketWeb: 08444 771 000
Ticketline: 0161 832 1111
3Beat: 0151 353 7027