Kitty Daisy and Lewis annoicne new LP "Smoking In Heaven", brand new single "I'm So Sorry/I'm Going Back"
aaamusic | On 10, Mar 2011
KITTY DAISY & LEWIS
Announce New LP "Smoking in Heaven"
+ Release new 2 track single "I'm So Sorry" / "I'm Going Back"
Brand new album released 30th May
Brand new single released 18th April
on Sunday Best Recordings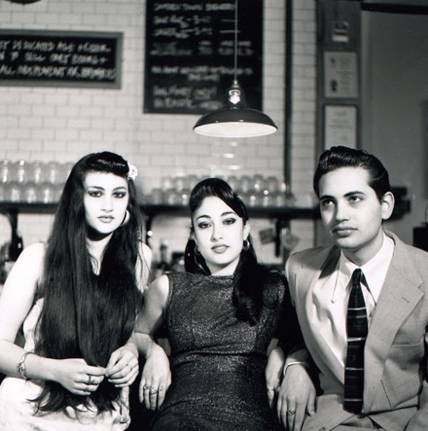 Hot on the heels of their critically applauded self titled debut album, Kitty Daisy and Lewis are proud to announce to their ever-growing fan base the release of their new 2 track single "I'm So Sorry" / "I'm Going Back," on Monday 18th April, taken from the eagerly anticipated new album titled "Smoking in Heaven," to be released 30th May on Sunday Best Recordings.
The brother-and-two-sister band, who first came together at a country gig in a pub near their home in North London, have rightfully earned themselves a reputation as talented and highly original, contemporary purveyors of a sound that challenges the senses and defies gravity to send spirits soaring. Having whipped up a genre-defying fever within the musical world with their notoriously frenzied packed live shows, they are now able to count amongst fans the likes of Amy Winehouse, Chris Martin and Eagles of Death Metal as well as Dustin Hoffman and Ewan McGregor. In fact their rapturous reception was so strong in the case of Chris Martin that he handpicked the young trio to tour the U.S with Coldplay.
With their new self-penned single, Kitty Daisy & Lewis have succeeded once again in pulling off what could easily be regarded as the first great hit of the Summer. "I'm So Sorry," is an exclusive track which enticingly conveys their adept multi-instrumental capabilities and stands irresistibly alongside the equally feet tappin' "I'm Going Back," both of which will feature on the band's forthcoming second studio album, "Smoking in Heaven." Both songs are built upon jazz tinged vocals and infectious rhythms that are sure to snare listeners of all ages and get bodies swinging.
As with all of the tracks on their debut album, the band display admirable dedication to authenticity. A fiend for living and breathing the music they play and talk so passionately about, when he isn't recording with his sisters Lewis DJs, collects and even cuts his own 78rpm records himself. In this case both tracks were produced and recorded by Lewis and his father Graeme in their vintage home studio using ribbon microphones and analogue tape formats, thereby eradicating the harsh digital interference of computer generated sound from their musical equation. And the single (and album) will also be available in a hand-crafted 78rpm 10" vinyl format. The result; two tracks that pulsate with warmth passion and intensity.
TRACKLISTING
(digital / 7" 45rpm / 10" 78rpm)
I'm So Sorry
I'm Going Back
Released Monday 18th April on Sunday Best Recordings.
Album – Smoking in Heaven (digital / CD / LP / 6×10" 78rpm vinyl album)
Due for release 30th May
UPCOMING LIVE DATES
To coincide with the release of Kitty, Daisy & Lewis's forthcoming single the band are excited to announce that they will be headlining a Bestival live event at KOKO in London on 19th March. In anticipation of their next studio album "Smoking in Heaven," Kitty, Daisy and Lewis will also be touring the UK in June. Further information on both their album and their tour will be available in the coming weeks, watch this space !
March
19th– headline act KOKO, London