Dave McPherson announces physical release date of 'The Hardship Diaries' and debut video.
aaamusic | On 12, Mar 2011
Taking a break from touring, writing and recording with InMe, front man and song writer DAVE MCPHERSON has, after a collection of single and EP releases, finally pieced together a heartfelt and heartbreaking collection of solo, acoustic songs for his debut album release, 'The Hardship Diaries', which is set for release on April 10th. The album will also be made available digitally instantly to anyone who purchases through Pledge Music. More info on Dave's Pledge campaign are here – http://www.pledgemusic.com/projects/davemcpherson
To coincide with his release Dave has just released the video for 'Summer: She Puts Me In A Good Mood' which can be seen below
In his time writing and performing with InMe has seen Dave score a Number One in the UK Rock Charts when he was just 20, play the Main Stage of festivals such as Leeds/Reading, and tour the world – sharing stages with Deftones, Serj Tankian, Feeder, Biffy Clyro, Pendulum and many more. Like the aforementioned Tankian, and the likes of former Million Dead frontman Frank Turner, McPherson is now ready to step out on his own properly as his band enter a new phase following their 'Best Of' release.
Flying solo, however, is nothing new to Dave – armed with an acoustic guitar and a disciplined hard work ethic he's been touring anywhere and everywhere since 2007 and has played over 700 shows. The difference now is that, as opposed to a collection of self-released EP's that provided snapshots of Dave's songwriting ability, he has recorded his debut album with a sound that is rich and pure, exploding with feeling and honesty. McPherson has lived and breathed music since childhood, drawing influence from artists such as Talk Talk, Loudon Wainwright III, Pink Floyd, Damien Rice, Amos Lee, & countless other vibrant artists. He is now ready to forge an identity of his own outside of the band that he has dedicated himself to over the past few years.
The album itself sits Dave & his acoustic guitar comfortably at the forefront of a wondrous wall of instrumentation. Recorded by the enigmatic upcoming studio wizard Mike Curtis at CDS Studios, the pair's unique production method adds to the overall honesty of 'The Hardship Diaries'.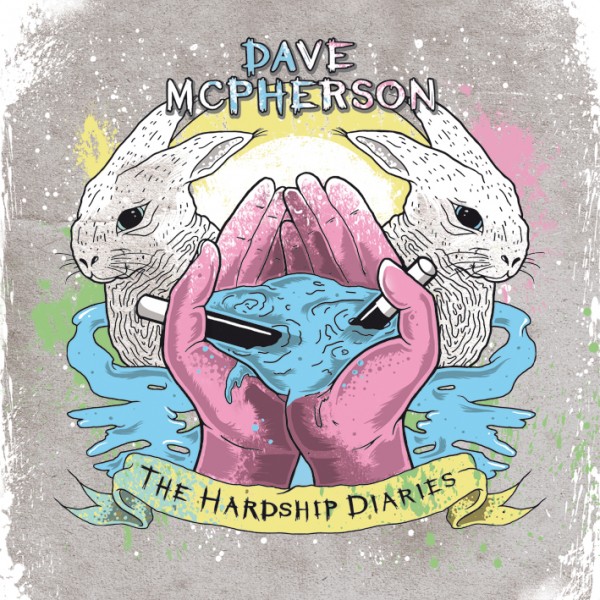 'The Hardship Diaries' – full track-listings
1. Spring: Hearts Need Blood / 2. Is This All We Are? / 3. Listen To The Music / 4. Summer: She Puts Me In A Good Mood / 5. Before I Even Had You / 6. Love Rats / 7. Autumn: A Ghostly Reprise / 8. Hummingbird / 9. Last Year / 10. Winter: Hibernation / 11. Obsession Is A Young Man's Game / 12. This Is No Fairytale
March UK Tour Dates
Wednesday 9th – NEWCASTLE, Trillian's
Thursday 10th – MANCHESTER, Jabez Clegg
Friday 11th – LIVERPOOL, Mello Mello
Saturday 12th – LEEDS, Cockpit
Sunday 13th – SHEFFIELD, University
Wednesday 16th – BRISTOL, The Fleece
Thursday 17th – LONDON, Borderline
Saturday 19th – BIRMINGHAM, Flapper
Tuesday 22nd – PORTSMOUTH, Eastney Cellars
Wednesday 23rd – GUILDFORD, Boiler Room
Thursday 24th – SOUTHAMPTON, Joiners
Friday 25th – EXETER, Timepiece
Saturday 26th – BRIGHTON, Pav Tav
Social Media Links
www.myspace.com/davemcphersonsolo
www.facebook.com/pages/Dave-McPherson/213560980407
www.twitter.com/DaveInMe