Paper Crows video teaser "Fingertips"
aaamusic | On 12, Mar 2011
Paper Crows
Single: 'Fingertips'/'Follow The Leader'
Release Date: 28th March 2011
Label: Future Cut
'Fingertips'/'Follow The Leader' is the second release from the hotly tipped duo Paper Crows. They have already garnered the support of many passionate  bloggers and also throughout press and radio with their debut single 'Stand Alight' back in October. This new, double A single shows the different sides of this promising pair with lots of shadows and plenty of light.
Follow The Leader' is a brilliantly, dark, unsettling, underground track that comes with a top drawer remix package. Hotly tipped newcomers Megabits deliver an insanely unique widescreen drum & bass/breakstep/electro hybrid, while George Lenton, who has remixed the likes of Daft Punk and MGMT, turns in a gorgeous glitchy reworking in a dubstep style and has proved to be a hit on the blogs. Kill Light strips the original right back to create a more minimalist, bleepy, affair full of twists and turns and finally the legend that is DJ Break delivers an inspired drum & bass remix.
'Fingertips' is quite simply a stunning song oozing with wild atmospheric beauty. It has aptly been described as "the marching of dreams on a star studded night" and is has been championed by Radio 1's Nick Grimshaw since Christmas with plenty of plays on his show.
Paper Crows have been wowing audiences with their live shows with spectral vocals and dramatic stage presence. With still less than a dozen gigs under their belt, Duncan and Emma have already supported the likes of Jamie Woon, Anna Calvi and Clock Opera.
Emma Panas and Duncan McDougall met at music college and forged a quick bond over their shared love of Kate Bush and Bjork amongst others. They set about writing together and as their friendship blossomed so did their musical partnership.
The pair are currently working in the studio recording their debut album, due for release later in the year.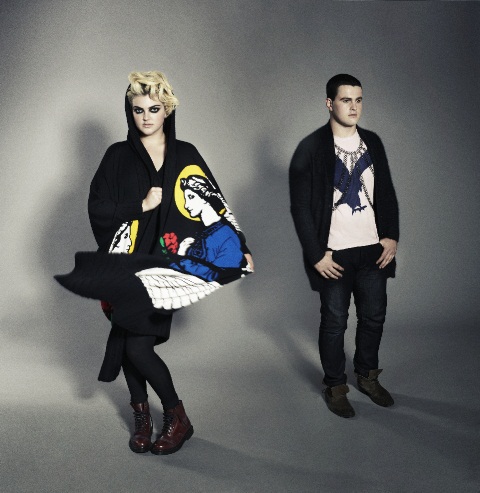 Catch them live on the following dates:
2nd March – Milo, Leeds
2nd April – Start The Bus, Bristol (supporting Yelle)
Keep your eyes peeled for more dates.
http://www.facebook.com/papercrows