A chat with Dan Hipgrave from TOPLOADER
aaamusic | On 14, Mar 2011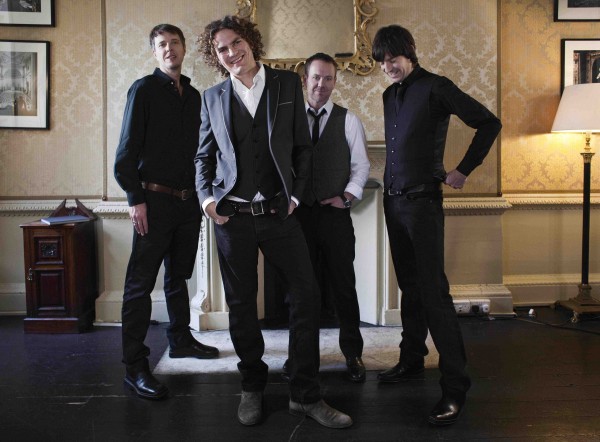 AAAMusic chatted with Dan Hipgrave from Toploader about personal identity, old and new music and Toploader new album of course…
AAAMusic: First of all, welcome back. What has kept you away for 9 years?
Dan Hipgrave: Has it been that long? Back in 2003 when it felt like a natural time to leave it. We'd toured relentlessly for 4 years and ran out of steam both creatively and physically. I think the public were sick of us too after such a successful period. A break was needed but maybe not as long as 8 years!
AAAMusic:What have you been up to during this time?
DH: Lots of different things. I guess after such a massive experience like what we went through it was nice to sit back and take stock of it all. I had to learn a bit about myself again, as an individual you know. When you're in a band you become 'Dan from Toploader' or 'Joe from Toploader', you lose you're individual identity a bit, so I had to work out who I was and what I
wanted from life. I realised after a year or so that I missed living out a bag so I took up travel writing and loved every minute of it. I also enjoyed being a hands on dad to my daughter Honey who was very young at the time.
AAAMusic:What made you decide to come back with new material?
DH: There would have been no point coming back and just playing old material. I don't know how bands do that to be honest. Being a musician means you are a creative, so getting back to making new music was essential for us.
AAAMusic: Did the thought of writing new material scare you at first?
DH: God no, it was the most exciting part of getting back together. Like I say, for me as a guitarist, it's all about the next riff, then you get bored of it and want to come up with another. It's addictive. The creative process was the bit I missed the most in the interim.
AAAMusic: Does your music address to the old fans only, or are you trying to approach
new fans too?
DH: We haven't really thought it through that much. We've made an album that we like and hope old fans still like us and hopefully we can convert some new fans along the way. If any old fans liked Achilles Heel then I don't think they'll be disappointed with Only Human as we have gone back to that anthemic approach. The voice is the same of course and the music is still
uplifting, the lyrics might be a little more reflective, but that life isn't it, the older you get the more experiences you have to write about.
AAAMusic: Do you think you wrote something as powerful as Dancing in the moonlight inthe new album?
DH: This is where we went wrong on the second album – we tried to recreate the success of the first album rather than treating it as a new chapter. You can never second guess the public and you shouldn't ever try to. I think we have recorded some of the best songs we've ever written on this album and we are sounding better than ever I reckon. It's certainly the proudest moment as a
musician for me.
AAAMusic: Tell us something more about the new album: what influenced it?
DH: Our tastes have changed a little so I guess we're influenced by what we're listening to now. We listened to a lot of The Killers, Arcade Fire and I've developed a taste for bands like Sigor Ros and strange soundtracks written by Nick Cave – big melodies and massive synths. I really enjoy the way Keane albums sound too, I think they are a great band and are from just down the road from us. I've also rediscovered my childhood music like The Cure and The Smiths too, it's always nice to know your tastes were spot on even when I was only 14. The Cure are the kings of beautiful melodies -they're one of the best bands to ever come out of Britain in my opinion.
AAAMusic: Who's the producer?
DH: Danton Supple who has worked with Coldplay, Doves and Ed Hardcourt.
AAAMusic: Does it feature any special guest?
DH:No
AAAMusic: The single has sounds of both the 80s and 90s. what do you think, musically speaking, of these two decades?
DH: The 90's was my decade. I think it was a vintage decade for music. Pearl Jam, Nirvana and that whole grunge scene was so exciting, and of course Brit Pop, that music made you proud to be British, well until it all got a bit shit at the end. We came along when there was no scene, people were looking for something new. Maybe the 80's thing comes from the amount of synths we
used. We've always been a keyboard led band but we didn't think Wurlitzers and Hammonds were relevant in 2011, bedsides we wanted to create a new sound that excited us.
AAAMusic: What artist from the current decade do you like the most and why?
DH: I think Arcade Fire are interesting, I also like the French band Phoenix and I love how Keane on their last record incorporated Hip Hop seamlessly without sounding crap – it could have gone horribly wrong and didn't. But we're only a year into the decade aren't we and up till now I don't think a scene has developed, or maybe it has and I just don't know about it! I hope for the kids sake one pops up soon or it's a shame for them isn't it!
AAAMusic:Are you planning an European tour, perhaps with some festival appearance?
DH: We'd love to. We always blitzed festivals in the past and got a name for ourselves as a good festival band. We always went down well in Germany and Scandinavia, not sure what that tells you!
Author: Roberta Capuano