ANNOUNCING RINGO STARR AND HIS ALL STARR BAND EUROPEAN TOUR SUMMER 2011
aaamusic | On 18, Mar 2011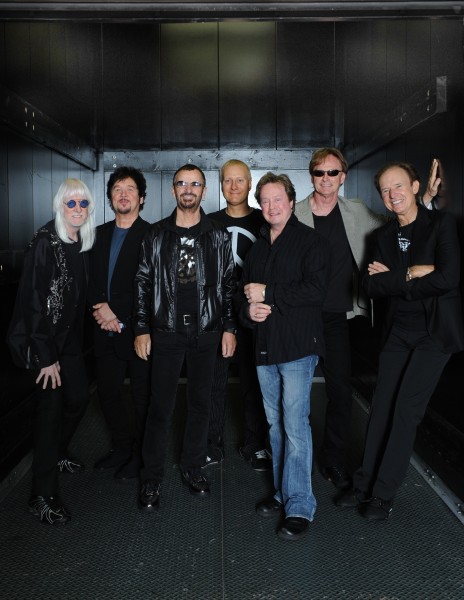 Ringo Starr and His All Starr Band return to the road for the 12th All Starr tour. Joining Ringo Starr will be Rick Derringer on guitar, Richard Page on bass, Wally Palmar on guitar & harmonica, Edgar Winter on sax and keyboards, Gary Wright on keyboards and Gregg Bissonette on drums.
The twenty seven date tour kicks off in Kiev, Ukraine on 4th June, stopping in Russia, Sweden, Norway, Denmark, Latvia, Poland, Britain, France, Czech Republic, Italy, Holland and Germany before concluding in Vienna, Austria on 17th July.
4th June                                 Kiev, Ukraine                                                     Palace Of Ukraine
6th June                                Moscow, Russia                                                Crocus City Hall
7th June                                St Petersburg, Russia                                     Big Concert Hall
10th June                              Gothenburg, Sweden                                    Liseberg
11th June                              Oslo, Norway                                     Norwegian Wood Festival
12th June                              Randers, Denmark                                          Vaerket                                                SOLD OUT
14th June                              Riga, Latvia                                                          Arena Riga
15th June                              Warsaw, Poland                                               Sala Kongresowa
17th June                              London, England                                              Hampton Court
18th June                              Liverpool, England                                           Empire
20th June                              Birmingham, England                                     Symphony Hall
22nd June                             Manchester, England                                     Opera House
23rd June                              Glasgow, Scotland                                           Clyde Auditorium
24th June                              Bournemouth, England                                 BIC
26th June                              Paris, France                                                      Palais des Sports
28th June                              Budapest, Hungary                                         Sport Arena
29th June                              Prague, Czech Republic                                 KCP Congress Centre
2nd July                                  Lyon, France                                                      Centre de Congres
3rd July                                 Milan, Italy                                                          Civic Arena
4th July                                 Rome, Italy                                                         Auditorium Cavea
7th July                                  Hamburg, Germany                                        Stadtpark
9th July                                  Weert, Holland                                                 Bospop Festival
10th July                                Dusseldorf, Germany                                     Philipshalle
12th July                                Berlin, Germany                                               Zitadelle
13th July                                Munich, Germany                                           Circus Krone
16th July                                Frankfurt, Germany                                        Jahrhunderthalle
17th July                                Vienna, Austria                                                 Open Air Arena
Ringo Starr is one of the world's brightest musical luminaries. He has enjoyed a successful and dynamic solo career as a singer, songwriter and drummer, an active musical collaborator and as an actor. Drawing inspiration from classic blues, soul, country, honky-tonk and rock 'n' roll, Ringo continues to play an important role in modern music with his solo recording and touring.
Ringo Starr's music, as a solo artist and as a Beatle, is permeated with his personality. His warmth and humour, and his exceptional musicianship have given us songs we all know and love, including 'It Don't Come Easy', 'With A Little Help From My Friends', 'Yellow Submarine, 'Don't Pass Me By', 'Octopus' Garden', 'Photograph', 'Back Off Boogaloo', 'You're Sixteen (You're Beautiful And You're Mine)', 'Don't Go Where the Road Don't Go', 'The No No Song' and 'Never Without You'.
The All Starr Band has toured consistently since its inception in 1989. Based on the concept "everybody on stage is a star in their own right", each concert sees Ringo performing songs from his solo and Beatles' career and each Starr performing hits from their own careers. Over the years the revolving line up has included such stellar artists as Joe Walsh, Dr. John, Todd Rundgren, Timothy B. Schmidt, John Entwhistle, Peter Frampton, Sheila E., Rod Argent and Paul Carrack.