Derek And The Dominos – Layla And Other Assorted Love Songs
aaamusic | On 20, Mar 2011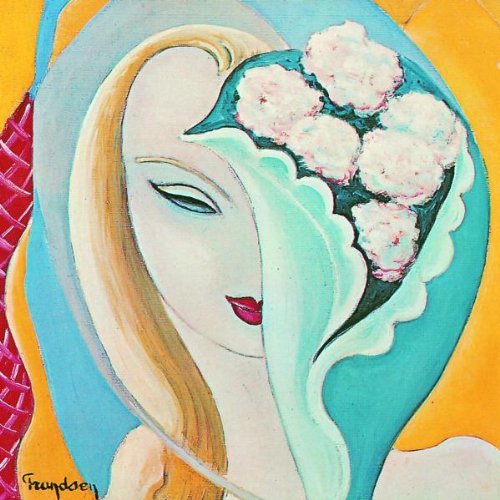 Derek And The Dominos celebrate 40 years anniversary with what is one of the best albums ever written: Layla And Other Assorted Love Songs.
For those of you who don't know, Derek and The Dominos were the band led by Eric Clapton, featuring the legendary Duane Allman on guitar. Recorded in 1970, the album failed to achieve success in the UK charts, yet its legacy as one of the best piece of recorded music is great. Its blend of blues, rock signature Clapton riffs and Southern gospel has influenced countless musicians since its first release, and doubtless it will continue to do so.
This anniversary edition gives the possibility to those who are not acquainted with the record to discover its beauty in full, as well as getting a taste of the live performances as well as getting to listen to previously unreleased tracks.
The remaster is beautifully executed, enhancing the beauty of each and every note played.
From the opening track I Looked Away to I Am Yours, Tell The Truth and the marvelous Layla, this reissue is a box of jewels you will love and treasure forever.
TRACK LISTINGS OF ALL FORMATS
DISC ONE: LAYLA and other assorted love songs (ALL NEWLY REMASTERED)
1.   I LOOKED AWAY  (3:06)
2.   BELL BOTTOM BLUES  (5:05)
3.   KEEP ON GROWING  (6:23)
4.   NOBODY KNOWS YOU WHEN YOU'RE DOWN AND OUT  (4:58)
5.   I AM YOURS  (3:35)
6.   ANYDAY  (6:36)
7.   KEY TO THE HIGHWAY  (9:38)
8.   TELL THE TRUTH  (6:40)
9.   WHY DOES LOVE GOT TO BE SO SAD?  (4:43)
10. HAVE YOU EVER LOVED A WOMAN  (6:54)
11. LITTLE WING  (5:33)
12. IT'S TOO LATE  (3:51)
13. LAYLA  (7:05)
14. THORN TREE IN THE GARDEN  (2:51)
DISC TWO: LAYLA and other assorted love songs (bonus CD)
1.   MEAN OLD WORLD  (3:52)  Layla session out-take
2.   ROLL IT OVER  (4.31)  Phil Spector produced single b-side
3.   TELL THE TRUTH  (3.23)  Phil Spector produced single a-side
4.   IT'S TOO LATE  (4.11)  Live on The Johnny Cash Show, 5 November, 1970 * PREVIOUSLY UNRELEASED
5.   GOT TO GET BETTER IN A LITTLE WHILE  (6.34)  Live on The Johnny Cash Show, 5 November, 1970 * PREVIOUSLY UNRELEASED
6.   MATCHBOX (with Johnny Cash & Carl Perkins)  (3:56)  Live on The Johnny Cash Show, 5 November, 1970 * PREVIOUSLY UNRELEASED
7.   BLUES POWER  (6.31)  Live on The Johnny Cash Show, 5 November, 1970 ** PREVIOUSLY UNRELEASED
8.   SNAKE LAKE BLUES  (3.34)  From April/May 1971 sessions for the Dominos second album ** PREVIOUSLY UNRELEASED NEW MIX
9.   EVIL  (4.34)  From April/May 1971 sessions for the Dominos second album ** PREVIOUSLY UNRELEASED NEW MIX
10.  MEAN OLD FRISCO  (4.04)  From April/May 1971 sessions for the Dominos second album ** PREVIOUSLY UNRELEASED NEW MIX
11.  ONE MORE CHANCE  (3.15)  From April/May 1971 sessions for the Dominos second album ** PREVIOUSLY UNRELEASED NEW MIX
12.  GOT TO GET BETTER IN A LITTLE WHILE JAM  (3.45)  From April/May 1971 sessions for the Dominos second album * PREVIOUSLY UNRELEASED
13.  GOT TO GET BETTER IN A LITTLE WHILE  (6:05)  From April/May 1971 sessions for the Dominos second album ** PREVIOUSLY UNRELEASED NEW MIX
* previously unreleased recording     ** newly remixed recording
DISC THREE (DVD): LAYLA and other assorted love songs
5.1 SURROUND SOUND DVD (DTS 5.1 and DOLBY SURROUND 5.1) by Elliot Scheiner (PREVIOUSLY UNRELEASED 5.1 MIXES)
1.   I LOOKED AWAY  (3:06)
2.   BELL BOTTOM BLUES  (5:05)
3.   KEEP ON GROWING  (6:23)
4.   NOBODY KNOWS YOU WHEN YOU'RE DOWN AND OUT  (4:58)
5.   I AM YOURS  (3:35)
6.   ANYDAY  (6:36)
7.   KEY TO THE HIGHWAY  (9:38)
8.   TELL THE TRUTH  (6:40)
9.   WHY DOES LOVE GOT TO BE SO SAD?  (4:43)
10. HAVE YOU EVER LOVED A WOMAN  (6:54)
11. LITTLE WING  (5:33)
12. IT'S TOO LATE  (3:51)
13. LAYLA  (7:05)
14. THORN TREE IN THE GARDEN  (2:51)
bonus track:
15.  MEAN OLD WORLD  (3.50)
DISC FOUR: IN CONCERT (CD 1) – ALL NEWLY REMASTERED
1.   WHY DOES LOVE GOT TO BE SO SAD?  (9:30)
2.   GOT TO GET BETTER IN A LITTLE WHILE  (13:50)
3.   LET IT RAIN  (17.47)
4.   PRESENCE OF THE LORD  (6:10)
bonus material:
5.   KEY TO THE HIGHWAY  (6:26)
6.   NOBODY KNOWS YOU WHEN YOU'RE DOWN AND OUT  (5:51)
DISC FIVE: IN CONCERT (CD 2) – ALL NEWLY REMASTERED
1.   TELL THE TRUTH  (11:21)
2.   BOTTLE OF RED WINE  (5:35)
3.   ROLL IT OVER  (6:44)
4.   BLUES POWER  (10:30)
5.   HAVE YOU EVER LOVED A WOMAN  (8:14)
bonus material:
6.   LITTLE WING  (6:11)
7.   CROSSROADS  (8:17)
2 LP SET (ALL NEWLY REMASTERED FROM ORIGINAL ANALOGUE 1970 UK MASTERS)
SIDE 1
1.   I LOOKED AWAY  (3:06)
2.   BELL BOTTOM BLUES  (5:05)
3.   KEEP ON GROWING  (6:23)
4.   NOBODY KNOWS YOU WHEN YOU'RE DOWN AND OUT  (4:58)
SIDE 2
1.   I AM YOURS  (3:35)
2.   ANYDAY  (6:36)
3.   KEY TO THE HIGHWAY  (9:38)
SIDE 3
1.   TELL THE TRUTH  (6:40)
2.   WHY DOES LOVE GOT TO BE SO SAD?  (4:43)
3.   HAVE YOU EVER LOVED A WOMAN  (6:54)
SIDE 4
1.   LITTLE WING  (5:33)
2.   IT'S TOO LATE  (3.51)
3.   LAYLA  (7:05)
4.   THORN TREE IN THE GARDEN  (2.51)
Author: Alessia Matteoli