Scoundrels – Sniff It Up
aaamusic | On 20, Mar 2011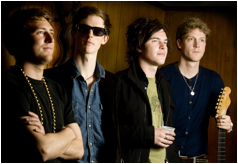 Scoundrels are a surprising band, and they proved so by they releasing an eclectic EP, with five songs very different from each other. All are united by a blues vein, and they should let this peculiarity emerge like in the third and fourth track, because they are inspired by Southern rock tradition played with a modern indie approach.
Just Can't See It Through, the first track, is the most indie tune, singer's vocals are dark, and the melody is enriched by heavy guitar riffs with shoegaze echoes, they are a bit similar to Arctic Monkeys, but they have a real strong personality and can be introduced in that music scene in which you can find White Lies, Franz Ferdinand &co plus a touch of blues.
Sniff it up is wonderfully blues, the wa-wa guitar is the centrepiece of the tune, accompanied by drums beating continuously on cymbals and hi-hat. Its verse can remind Red Hot Chili Peppers, but it's a hidden influence, maybe not conscious. The only suggestion I can give is that the song is a bit too long and repetitive, it could be ended before its 4 minutes.
Hangman's lament is flamboyantly Southern, with a very blues guitar, it's a tune made of rhythmical stops and it's remarkable the competition between the two guitars, fighting like in a Lynyrd Skynyrd song.
Arrogance blues goes on with blues, like it's suggested in its title and I could venture that it's a bit poppier compared to previous songs even if it contains all the blues rules and it's sung very intensely. The finale is beautiful because after the full open of its refrain with choirs and a triumph of guitars, it suddenly stops to leave the guitar alone hinting at "The house of the rising sun" (maybe it's not intentional, but I've found that).
Outta town blues, ends the EP, it's a very good tune enriched by a texture of sax, strings, and accordion, showing that Scoundrels know how to use the classic instruments, belonging to a traditional genre, blending them in a very personal style.
Author: Roberta Capuano