Vato Gonzalez ft. Foreign Beggars – Badman Riddim (Jump) (Tru_Fix & Thunderskank Remix) 320 download
aaamusic | On 20, Mar 2011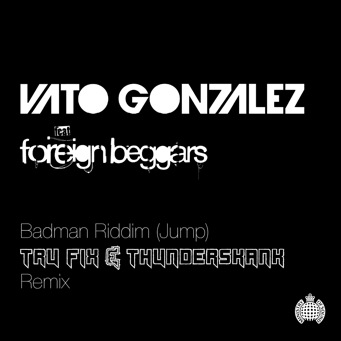 Ministry of Sound / Levels Recordings are proud to present multi-talented Dutch DJ / producer Vato Gonzalez, with vocals from the supremely talentedForeign Beggars on arguably the biggest intrumental of 2010, from the home of Wretch 32 and Yasmin!!
Vato Gonzalez ft. Foreign Beggars – Badman Riddim (Jump) (Tru_Fix & Thunderskank Remix) by Ministry of Sound
Amongst all the fresh DJ/Producers on the rise, Vato Gonzalez is fast becoming the cream of the crop. In recent years he has built a label, event and music genre called 'Dirty House'. Foreign Beggars are a critically acclaimed rap group from London, the group won 'Best New Act' at the 2004 UK Hip Hop awardsand were voted best group at the Lyric Pad Hip Hop awards in 2005. With these two heavyweights collaborating – there is no doubt this track will be a smash!
And now in 2011, this massive track is finally ready for release!!  After gaining massive Radio 1 specialist support as an instrumental from the likes of Annie Mac, Zane Lowe, Pete Tong, MistaJam and Toddla T, as well as scoring well over 1.5 million views on YouTube, its easy to see why the single is setting up to be one of the biggest tracks of 2011.
With a massive remix headed up by underground duo Tru_Fix & Thunderskank. Producer and DJ, Tru_Fix has spent the past two years honing his production skills at MI7 Records – from his first love Drum & Bass. With Milton Keynes based dubstep producer Tunderskank they have produced an unmistakably heavy, fast paced, bass driven mix that will leave you utterly speechless!
Download the track here: http://official.fm/tracks/223117