Franklin Vs Com Truise New single out April 25
aaamusic | On 21, Mar 2011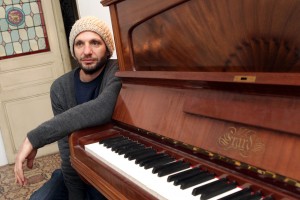 Franklin release their new single via Wool Recordings on April 25. It will be available on a limited-edition silkscreened seven-inch and as a download.
The A-side features a remix of "I Know" by Com Truise, the alter-ego of Seth Haley, New Jersey-based purveyor of "'80s computer music nostalgia and proggy, electronic funk" (according to Pitchfork), who has recently reworked the likes of Twin Shadow, Neon Indian and Lali Puna, as well as releasing his own EP on Ghostly International.
It's a delightfully discordant three-and-a-half minutes of mutant pop and old-school synths which manages to sound retro without any nagging sense of fake nostalgia. The track was released as a free download in January and spent the following month among the top 50 most blogged songs on The Hype Machine and Elbows.
Franklin is the side-project of Franck Rabeyrolles – Wool Recordings' founder and Double U mainman – which gives him the chance to move away from the more introspective, folky textures of his main band and explore his love of vintage analogue synths and drum machines. "It's effectively an amalgam of three kinds of psychedelia, each from a different era – acid rock, dub reggae and techno," explains Franck. "And this historical layering engenders feelings of dislocation, of lost bearings."
Franklin will release a new album later this year and UK dates are being planned for June.
The full tracklisting for the single is:
"I Know" (Com Truise Remix)
"Great Society"
"Hospital"
"Dreamer" (Cats Voyage Remix) – download only