Tatiana 'Spider Web' released 18th April
aaamusic | On 21, Mar 2011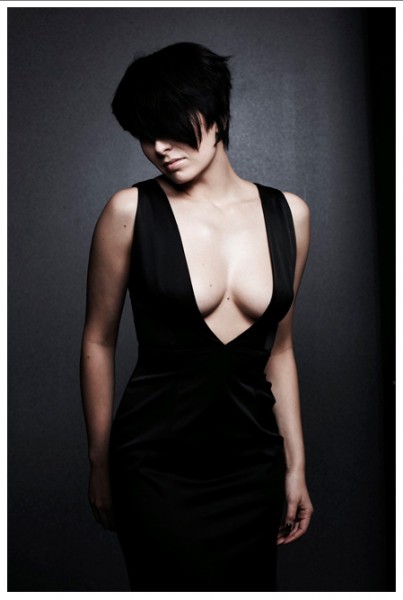 'Spider Web' is the debut UK single by Polish superstar Tatiana Okupnik and is a perfect introduction to her individual style of power-pop and strong signature vocals. Produced by Denis Ingoldsby (N Dubz, Girls Aloud, Sugababes, Eternal) and Andy Murray (Gary Barlow, Craig David, Alicia Keys) at Granary Studio in Kent, the single has been remixed by Jeremy Wheatley (Leona Lewis, Skunk Anansie, Duffy, Corinne Bailey Rae, Pixie Lott).
Here you can download the 7th Heaven remix of 'Spider Web':
Tatiana "Spider Web" (7th Heaven Radio Edit) by Tomorrow Never Knows
Born in Lodz in Poland, Tatiana grew up listening to Led Zeppelin and the best of western rock and pop on cassettes recorded from Radio Luxembourg and the BBC and was inspired by great vocalists such as Chaka Khan, Janis Joplin, Tina Turner and Robert Plant "The thing that unites the artists I love is that they understand big, emotional musical vocals. I would like to think that the emotional impact of my voice is big like some of my idols".
A former ballerina (Tatiana studied ballet at the National School of Ballet), when painful bones ended those dreams she focused her attention on her music. As the lead singer of the Polish band Blue Café she enjoyed platinum records and became a massive star in her homeland and toured throughout central Europe.
In 2006 Tatiana went solo and, in addition to graduating from university with fluent English, French and Spanish, she recorded an album in New York with jazz-funk legend Lenny White – 'On My Own' went gold on its 2007 release in Poland. Tatiana has also hosted two series of the Polish Dancing On Ice TV show and recorded a CD with Wyclef Jean.
The little girl who recalls having no shoes as a child and queuing each month for a ration of toilet paper ("we would have the paper on a chain around our necks; we called it the Polish Louis Vuitton bag") has now cast her gaze to Britain. "Britain is the centre of European music. I love my Polish fans and, of course, I hope they love the new music, but I also hope I can reach out to a whole new audience here in the UK." 'Spider Web' is the title track of Tatiana's debut UK album; with the exception of the first single, the album was written and produced at Sarm West studios in London with Tim Hutton (Amy Winehouse, Bat For Lashes, Ian Brown and the man who, according to Andy Cato, "put the groove into Groove Armada").
With nods to funk, jazz, soul and rock Tatiana has recorded "a classic pop album with great songwriting and a cool twist. I've put my heart and soul into it". Her powerful voice is the common thread through a filmic record that houses the Latino and Eastern European influenced 'World Of My Design', singalong stadium pop ('Supersize Love' and 'Poor Love'), smooth and summery jazz pop ('Tranquility' and 'If I Was To Tell You'), funk ('Bottom Line'), a Bassey-esque showstopper ('Coming My Way') and the laidback soul of (Been A Fool').
Tatiana's first UK performance will be at the Wardrobe Club in Leeds on March 3rd when she will premiere tracks from the album.  Her powerful vocals and impressive range coupled with her massive stage presence make Tatiana and natural and passionate performer. "Performing live is what I love more than anything, and a big part of writing these tracks was imagining their live impact.  These songs will really come alive in Leeds, and I can't wait."