Musicians announced to perform Serafinowicz top music choices
aaamusic | On 22, Mar 2011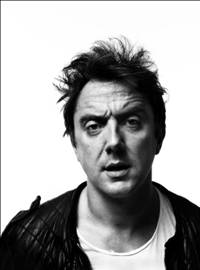 It's less than two weeks to go until another of Club Geek Chic's renowned 'In Conversation' events takes place in the intimate surroundings of the Concert Room at Liverpool's St. George's Hall with Liverpool-born actor, comedian and impersonator PETER SERAFINOWICZ.
Friday 1st April is the date when the ex-SFX schoolboy will talk about his incredible career which has seen him take on such varied roles as Duane Benzie, Simon Pegg's arch-nemesis in Spaced, the USA-obsessed Tex from I'm Alan Partridge, a TomorrowAdd an event for tomorrow's World style scientist in the Open University-inspired Look Around You not to mention a plethora of bizarre and hilarious characters in the self-titled sketch series, The Peter Serafinowicz Show.
The evening takes on a live 'Desert Island Discs' format featuring Peter's top five song choices performed live by five separate acts.  The musicians have now been hand-picked by co-directors Karen Podesta and Gemma Aldcroft and consist of a mix of new, emerging and established Liverpool artistes.  Mesmerising performer and accomplished songwriter Laura James & her band The Lyres will perform alongside Keith Mullin lead guitarist with 90's pop group The Farm. Rising new star and finalist in The BRITS 2010 UK Songwriting Competition, Alex Berger will also perform as well as classical guitarist and composer Neil Campbell, who will perform with Sense of Sound Choir director and vocalist Perri Alleyne-Hughes. The line-up is completed by local vocalist Gary Brown and Terry Stears, guitarist and former member of rock band Rage.
As a talented musician himself, Peter's love of music will be only too apparent on the night in his song choices which won't be revealed until the evening itself.
Audience members will also hope to hear some of the now infamous and scarily accurate vocal impersonations that have helped make Serafinowicz the phenomenon he is todayAdd an event for today.
Serafinowicz, who was born in the Gateacre area of Liverpool and moved to London in his early twenties, where he lives with his wife, actress Sarah Alexander and their son Sam, responded immediately to the request to be the latest addition to the line-up which has included Janice Long, Mike McCartney and David Morrissey.
Peter Serafinowicz said "I am looking forward to taking part in this unique event, it also gives me a fantastic opportunity to return to my native city, something I rarely have time to do".
Peter will be interviewed by actor and performer Mike Neary and a question and answer session will also take place with audience members.
Serafinowicz is the latest in an impressive line-up of guests that Club Geek Chic's Gemma and Karen have secured for the 'In Conversation' events and they are already in talks with the Royal Liverpool Philharmonic's Chief Conductor Vasily Petrenko and actors Sue Johnston and Jason Isaacs.  Future guests and dates are to be announced shortly.
PERFORMANCE DETAILS
IN CONVERSATION WITH PETER SERAFINOWICZ
St George's Hall Concert Room
North Entrance
William Brown Street
Liverpool
L1 1JJ
Date: Friday 1st April 2011, 7pm (7.30pm start)
Prices: All tickets £15 (No booking fee)
How to Book: Available via the Club Geek Chic website www.clubgeekchic.co.uk