Kitsune Maison announce new compilation released May 16th
aaamusic | On 28, Mar 2011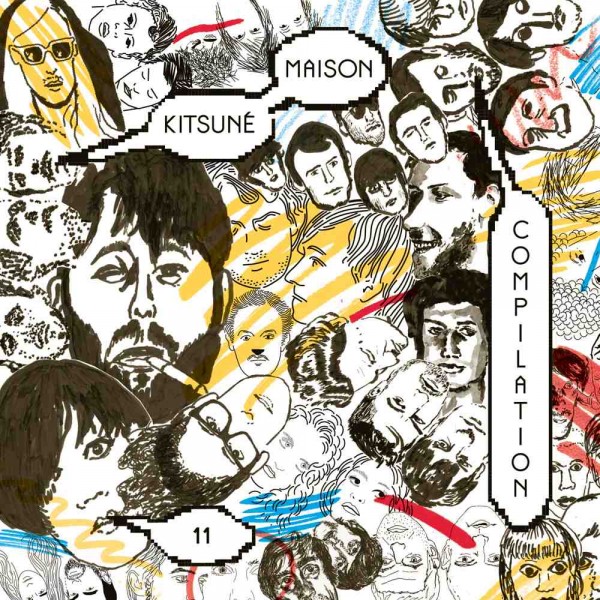 "Because I find this new cd is taking us yet one more step towards maturity. We're perceived as a club label when really we've always been between 'club' and 'indie', and this new compilation sits right at the crossroad of the two."
explains Kitsuné's head-honcho Gildas Loaec.
"I find the combination of guitars + electronics is one of the most exciting areas in music today. Kitsuné's always supported this fusion and believed a good part of the future will come from that. So here's Kitsuné's selection of what's best in the genre at the moment."
1 :             Let's Go All The Way (early version)
A band without a name just signed to Kitsuné. We won't even tell you if it's a guy or a girl singing. This is their first ever appearance, they've not even put a track on the net yet. They're currently working hard in the studio with Alex Kapranos from Franz Ferdinand. Yes and they've still to come up with a band name. Album in 2012.
2 : ALEXANDER DEXTER JONES   Phantastic Phone Call
The son of Mick Jones is a New Yorker who does everything on his own, writes, programs and plays all the instruments, his future's looking bright. A bit of drama in his voice. Adorning pink nail varnish and wearing leggings, he made a splash when visiting the Kitsuné offices telling us how he awaits hurricanes on Montauk beach hand in hand with his sister.
3 : HOUSSE DE RACKET Roman
First French band to sign to Kitsuné for an album out this summer. They're produced by Zdar who fit them in between Phoenix and The Rapture. Their name's written on 2011. Highly recommended live.
4 : POLARSETS Sunshine Eyes
Super mega cool band. They record their tracks almost live so that they can translate them effortlessly to the stage. Their reputation is fast growing.
5 : GALLOPS Miami Spider (Ponciau edit)
Already acclaimed by Radio 1 with far out influences (Aphex Twin, Fugazi, Vangelis, Sun-Ra, Steve Reich…). A well focussed track.
6 : COSMONAUT Say What You Want
Oh yes… makes you wanna shake your rump after 3 seconds. They're Aussies and we suspect their music is designed for people to come down to.
7 : CREEP Days (Azari & III remix)
It is indeed The XX's Romy on vocals who does a rare guest appearance for this Brooklyn trio. And it's Casey the singer from
Fischerspooner who directed the video. We're not just name-dropping here, we're right in the thick of it.
8 : IS TROPICAL The Greeks
They're masked, they're mental, you already know of them, they're a human molotov
cocktail. Kitsuné is producing and releasing their debut album, which is coming out in the next few weeks, on the 13th of June to be precise. We reckon they're the new The Cure.
9 : PETER & THE MAGICIAN Twist
In case you didn't know Stephen has left Aeroplane and started his own project The Magician. Here he teams up with the ubiquitous Yuksek (real name Pierre, get it ?) for a slice of italo-disco.
10 : THE TOUCH Sermon
These Swedes understand well the nostalgic dimension you sometimes find on the dancefloor, beer tears or wine sad more like, heartbroken and sleepwalking… the kind of stuff that builds lasting memories. The track's about an oxygen-less civilisation that's about to collapse. Beautiful !
11 : LOGO x ICONA POP Luvsick
Two Swedish girls and two French guys, a civil partnership signed for this compilation. Because receiving demos just isn't enough anymore for Gildas, he's now orchestrating musical marriages. Logo are set to big things and Icona Pop is another proof that it's kicking off too in Sweden.
12 : BEAT CONNECTION Silver Screen
The indie-dance peak of the compilation, which reminds us of Madchester's flowery and idyllic atmosphere, extra-wide flares, bowl cuts for boys… The track's about spring, being lazy, girls, sunday mornings, all that…
13 : NIGHTBOX Pyramid
They're Canadians produced by Al from MSTRKRFT, which is legendary in its Toronto hometown. 'Well groovy' as my dad would say. We can tell they're going to do rather well on Hype Machine.
14 : GUARDS Resolution Of One
These Americans were already on Kitsuné Maison 10. Their garage rock is typically New York, brutal and energetic. Chairlift, Cults and MGMT are buddies and pop in during recording sessions. Richie, the guy behind it all, tends to put the tracks on line for free. So this is especially for those who don't have the right bookmarks or the time to download.
15 : FICTION Big Things
The indie-dance peak of the compilation (there are several, just like in Twin Peaks). Gildas likes the Tom Tom Club vibe of the track.
Klaxons love them.  A London trio that's so much cooler than you, it could become depressing.
16. EXOTICA Conte d'Eté (afrofunk version)
These Frenchies were on the recent Kitsuné Parisien compilation. They're part of the new Paris breed and nicely mix pop and electro. The kind we can never get enough of at Kitsuné.